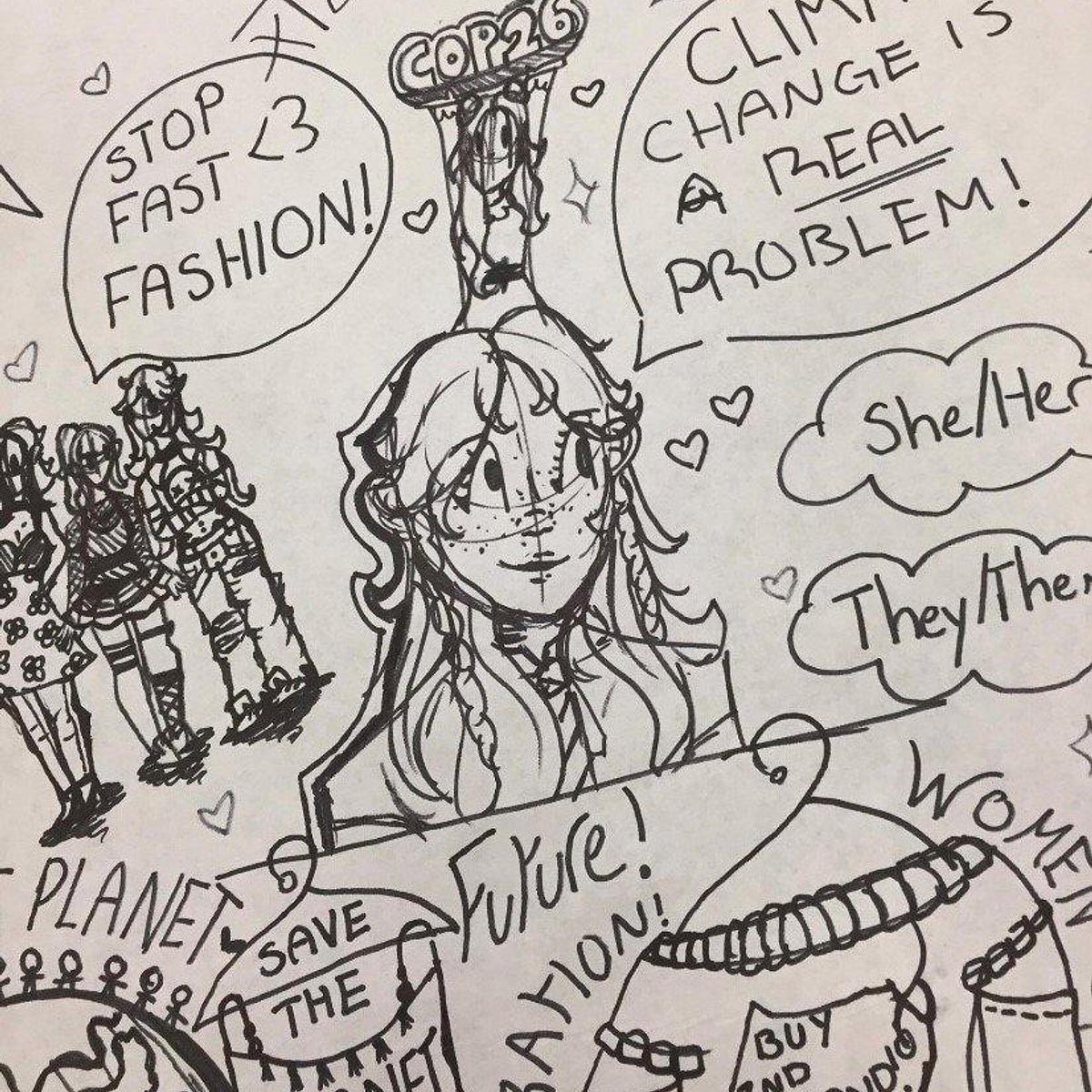 Making sure schoolgirls' voices are heard: the story of Girls@COP26
How the Girls@COP26 idea emerged and what matters to secondary schoolgirls on gender and age equality for climate action.
During COP26, more than 2,500 secondary pupils from schools across Glasgow gathered at the 'Girls@COP26 - The Solutions are Feminist' event at Glasgow Caledonian University to debate aspects of gender and age within the climate emergency. The event focused on the disproportionate impacts of climate change on women and girls, inviting secondary schoolgirls in the COP26 host-city to 'speak up and shout out' on topics of climate action, health, culture, fashion and women's contribution to society, alongside a panel of experts.
Demsoc's Alexa Waud met with Annette Christie, convenor of Girls@COP, to learn more about the event and what Glasgow's schoolgirls have to say.
---
Alexa Waud: Could you introduce yourself?
Annette Christie: I'm a councillor in the Glasgow City Council. I'm also the Convener of Wellbeing, Empowerment, Community & Citizen Engagement City Policy Committee, and I represent Glasgow, as Vice Chair of the Eurocities Social Affairs forum.
A.W.: What's the origin of the Girls@COP26 event?
A.C.: Well, it'd been known for a few years that Glasgow was going to host COP26. And in the Council, we wanted to make sure that citizens were involved, that their voices weren't lost. So it just wasn't the world leaders and the entourage coming to the city, like a big circus leaving us all behind: we wanted our local communities to be involved. But then, my idea sort of grew, when it became quite obvious at the main events there was a lack of female representation at the top table. And that's pretty galling in a city that has a woman who is leader of a Council.
We wanted to make sure that citizens were involved, that their voices weren't lost.
Then there was an open letter written, which led to the campaign She Changes Climate. That letter was written to the COP26 main organisers. And that, together with the city's aim to have the local communities involved, and the support of the Women of the World Foundation, spurred me on to make sure women's and girls' voices were heard.
A.W.: At COP26, we experienced what it was like to be part of the panel event and see the round tables of two different schools, with 15-year old girls asking questions - and several schools involved as well. Do you want to talk a little bit more about what that was?
A.C.: Yes! The lead department from the Council is Education Services, or other partners where the events are hosted is Glasgow Caledonian University, which is the also the University for the Common Good. It's also the home of the Center for Climate Justice, which was founded by the Mary Robinson Foundation. All this underpins everything that we're doing here over these two weeks: when the problems are man-made, the solutions are feminist. So, together with education services, we identified that 15-year olds – which is third year in high school – would be our key audience.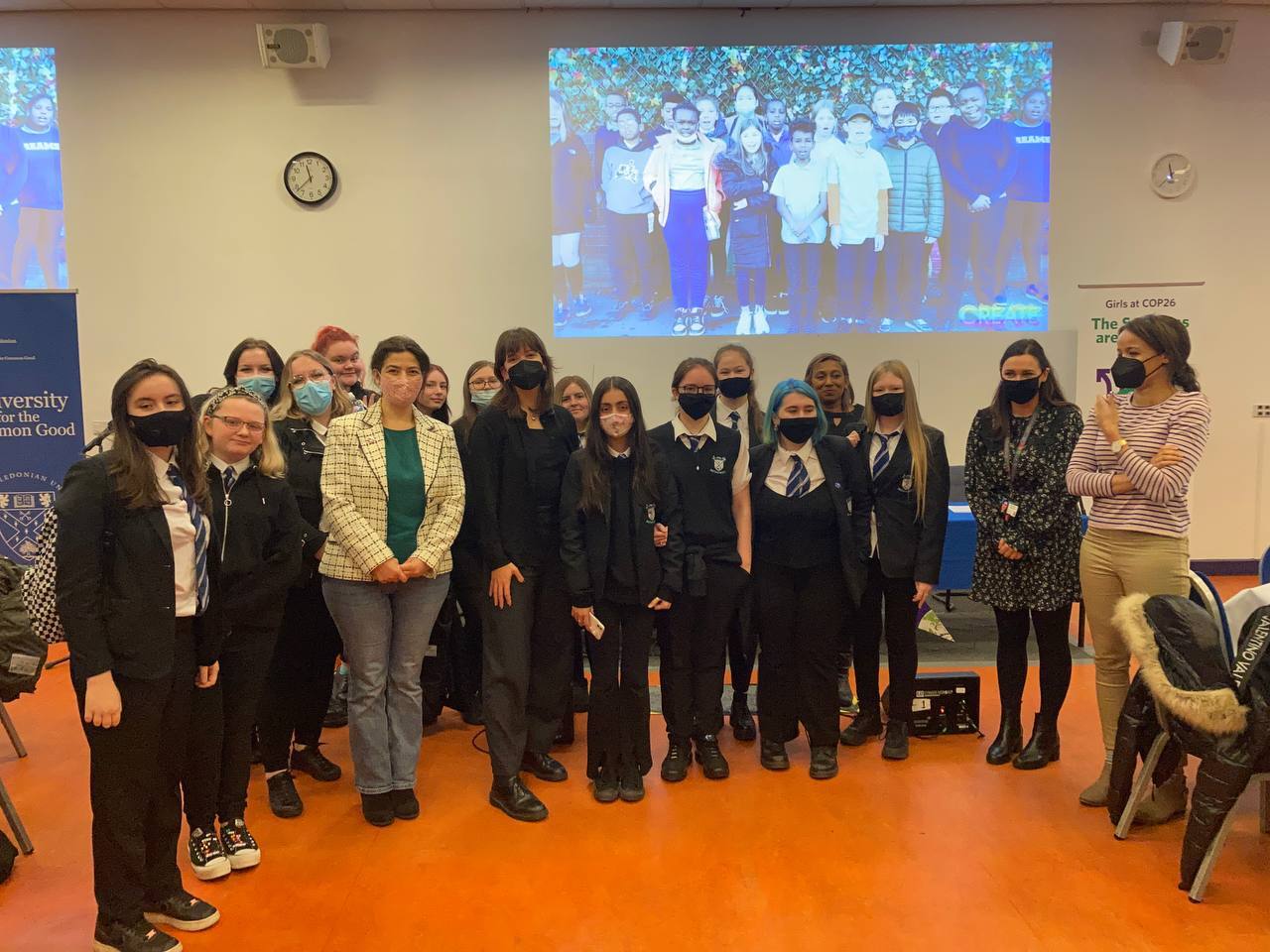 Alexa Waud pictured with some of the Girls@COP, 5th November 2021.
A.W.: How did you select the participants? Why 15-year olds?
A.C.: They were identified as the best target audience, for a mix of reasons including maturity. Fourth, fifth and sixth graders would be sitting for national qualifications and studying for exams. But all of the kids in our schools have been working on climate-related issues as part of their Curriculum for Excellence. They also look at citizenship.
At the start of August in the new 2021 school term the girls were looking at empowerment and achieving gender equality; how empowerment of women and girls is factored into climate change disproportionately. It doesn't affect men and women the same way. And so the kids have been working on that since August. Our event is a little mini conference over the whole length of COP26, Monday to Friday "school days". There's a different theme, two sessions per day, morning and afternoon. The themes started on the first Monday – 1st November – on future of work and the wellbeing economy. We went on to migration and climate refugees, health food. Today, (5 November) we're looking at STEM and the lower level of women involved in STEM-related industries, engineering and so on. Next week we move on to data and design, which is getting better but still very much a world that was designed by men for men. So we're looking at changing that. And then we have fashion, culture and heritage, and the final theme will be mentorship.
A.W.: Has there been a question by one of the girls that stood out to you, or any experience or encounter at COP26 you'd like to share?
A.C.: Well, every day has been a wee bit different. They're all unique and special in their own ways. So even if the panel was the same in the morning, in the afternoon, the questions could be completely different. And bearing in mind they're 15-year old girls, so who knows where those questions will go.
One girl said, 'when you hear about the abuse of women, in places like Afghanistan, why is that not front page news? Why do more trivial things get the headlines?' And other more basic questions included 'Why is the world like this?' 'Why aren't we equal?', and 'why aren't women able to do the same things that men do?'. So, you know, from the mouth of girls, simple little things like that, but which seem so obvious.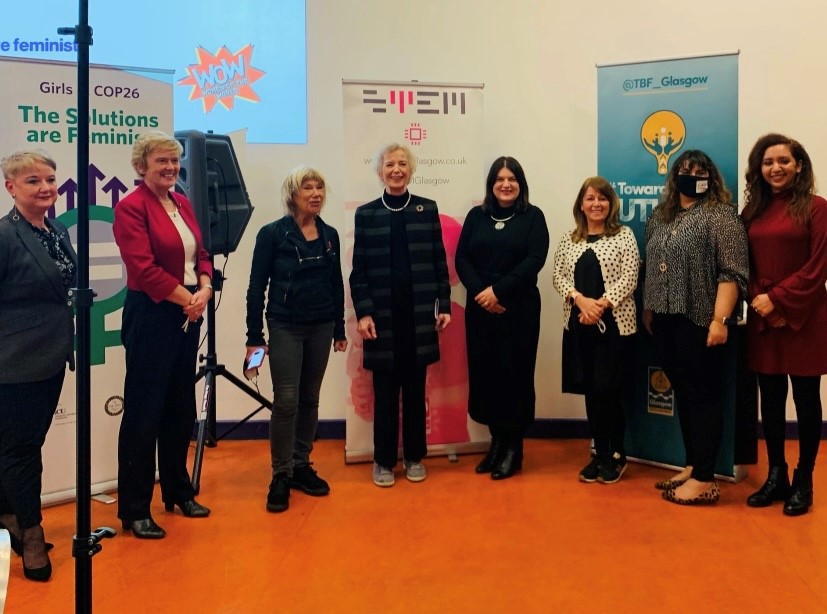 Mary Robinson and the panellists on the final day which include the Leader of Glasgow City Council, Cllr Susan Aitken, and Glasgow's Executive Director of Education, Maureen McKenna and Jude Kelly, founder of Women of the World Foundation
Other moments really stood out for me, with some incredible women on the panels and their amazing life stories. One Indigenous woman, for instance, who introduced herself as coming from Turtle Island, which is also known as Canada. She spoke of how we are all impacted by seven generations before us, and how what we're doing right now will impact the next seven generations. On the same panel, we had a woman build on that point by saying, 'my great great great grandmother was a slave and was bought at the auction blocks in Alabama'. Now she's worked on some high profile jobs. Still, we don't have full equality.
A.W.: Demsoc are at COP26 for climate. Do you have a strong memory of democracy happening in the climate space? Or on climate issues?
A.C.: I think most people would say it's the action of young people that really stick out. Their activism, whether that's demonstrations and stopping traffic marches – and without bursting into a song – children are our future. And these events that we've been holding are not the end. There will be legacies coming from this.
We want the girls from the schools in Glasgow to be speaking to the girls in the next city, and to other cities across the world.
At the end of each session we asked the kids, with the help of the panelists, to identify collective actions they can take away. Some of them want to pass the baton to the next COP city. And we want the girls from the schools in Glasgow to be speaking to the girls in the next city, and to other cities across the world. And one of the actions that's been identified – I don't know if it's going to happen – is taking ten kids over to the next COP. Ten kids from Glasgow physically handing that torch to them, so it's not just metaphorical.