Growing a stronger place-based democracy in Kirklees
Overview
Kirklees Council have made a name for themselves in local democracy circles. In 2017 the Kirklees Democracy Commission published a report that has helped kick-start changes to local democracy in the borough. We sat down for a chat with Carl Whistlecraft (Head of Democracy and Place Based Working) and Diane Sims (Engagement and Communications Lead for Democracy and Place Based Working) from Kirklees Council. Carl and Diane are also the driving force behind the ever-popular #Notwestminster event and network, which is co-ordinated by volunteers.
We talked about many things they've been doing recently to change Kirklees Council's relationship with local communities, and change what local democracy means to people. Including: using the Place Standard tool to start open-ended conversations at a local scale; making connections between mutual aid groups and local democracy; and using citizens' confidence in their ability to affect change in their local place as a key measure of success for the council.
We've written an edited summary of the conversation below, or you can access the whole audio of our conversation here.
Place based working
Kirklees is an artificial construct – it's not really a place. So we've focussed on working in towns and villages that people relate to. And we've tried to build a different relationship with citizens – built on genuine engagement and conversations, and less on consultation.
In our Democracy Commission a few years back there was a strong sense that people wanted to be part of a conversation. They didn't want to be part of stop-start consultation, where it felt like they were only asked for a view once options had already been put together.
So we tried to build conversations in local places that come from what local people want to say, what their interests and aspirations are. Not only asking about something once it's already been developed by officers.
The Place Standard
One way we started doing that was by trialling a tool called the Place Standard, which is widely used in Scotland and has demonstrated real impact on issues like health inequalities.
This uses 14 themes to start conversations about all aspects of a place. Not just the built environment, but social connections and whether people have a sense of being able to influence what happens. That brings out suggestions and concerns that people who've come together to work on these conversations can take forward.
You can use this in lots of different settings – we've had a conversation sitting on a park bench, in a shop, or at a community group. It works best with a small group talking through the issues and working out how they would rate different aspects of their place.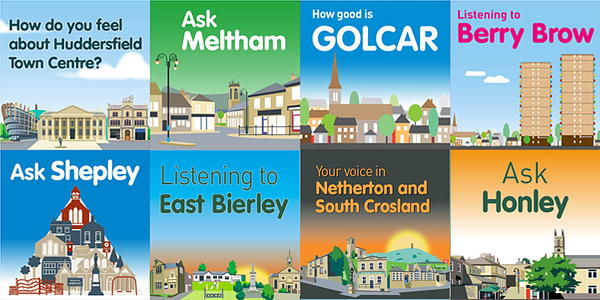 We've been supporting people to use this tool themselves, so most of these conversations have been run by community groups in partnership with citizens and councillors. We've also used it for things the council is doing, like looking at the future of Huddersfield Town Centre, where it's helped us get a much richer picture of things like what a family friendly town centre would look like.
"People's lives are difficult, nuanced and complex – one size doesn't fit all. We all know that, but this actually gives a means for doing something about it."
From there, we help with analysing the data, we put all that online so it's open to anyone who is interested. Then that leads to thinking about what could citizens do with some support, and what's a job for the council or partners to do. Taking a conversational approach helps you realise that not only do people care about issues, but they have solutions to those issues themselves. It helps flip the narrative from the council as place fixer, to the citizen as place shaper. Things have changed in local places as a result of these conversations, and the next part of the story is showing these changes.
People's lives are difficult, nuanced and complex – one size doesn't fit all. We all know that, but this actually gives a means for doing something about it.
Starting where people are
People's starting points are incredibly different. In parts of our borough there are groups and communities that are very organised, active and connected – so if we give them the tool and a bit of training, away they go. Other areas are harder to get into, they are not yet as organised, they don't have some of the capacity that exists in other places and so we spend more time and effort building that awareness, capability and confidence. One size doesn't fit all – it's about understanding where citizens and communities are starting from.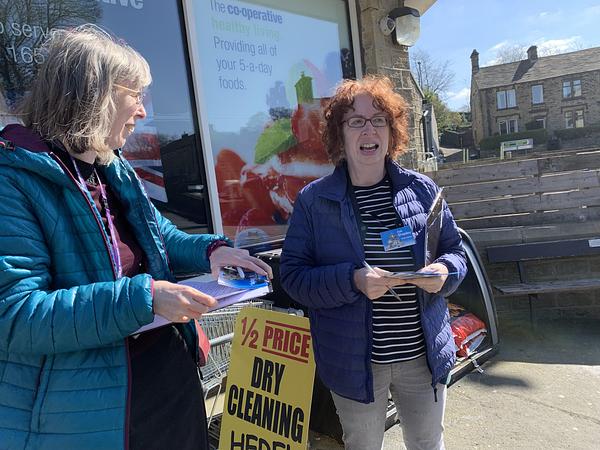 Celebrating active citizenship
and making it a strategic outcome for the council
We've been doing work on how people become more involved, and how one kind of involvement leads to another – which shows how important networks are to make sure people become connected in some way. That point of connection can then give them a route into actually having real influence. As part of Local Democracy Week, we had a conversation with people involved in mutual aid about the relationship between mutual aid and local democracy. Some of those participants said that it was only by becoming involved in mutual aid groups that they started to become aware of other things, and made connections with councillors. We are trying to think about where those relationships go next, and how we keep those doors open.
We've been doing work with the New Citizenship Project, looking at how to help more people become active in their local places. People who are active don't always see what they are doing as being a volunteer or an active citizen – they don't always recognise their own contribution, or perhaps don't feel that their contribution is being recognised. So we've been having focussed conversations to gather stories of active citizenship, and are sharing these online, recognising the importance of what people are doing in our local places.
We're also trying to measure how confident citizens feel in their ability to influence things, and to use this as a strategic outcome to measure against in Kirklees. Moving away from thinking about customer satisfaction towards thinking about people as citizens who can influence things.
To do this we've had conversations with citizens, and brought together a group of partners from different organisations, to think about what does the expression of this outcome look like, and how could we measure it. Asking what people would feel, and what actions they'd be taking, in a future where people were more engaged and had more influence.
Brave leadership
Brave leadership was a big part of making these changes happen. Our Democracy Commission kicked a lot of things off. This meant having a very big public conversation about local democracy smack in the middle of austerity. It was brave of the chief exec and senior politicians to support spending on that. Without brave leadership we'd have lacked broad agreement that this was the direction to take. There were some criticisms at the time, but over time people have seen the benefits we get from citizen input, and it's an argument we don't have to win quite as often now.
Working in the open
We talked from the beginning about creating an environment for local democracy to thrive – and recognised this was something you have to keep working at. As well as taking a partnership approach, a big part was working in the open. That's enabled others to learn from what we've done but has also grown trust in what we're doing because it's always out there. And it allows people to get involved much earlier. If you wait for everything to be refined before sharing you take that opportunity away. You have to be determined to keep at this openness, even at times when it's tough.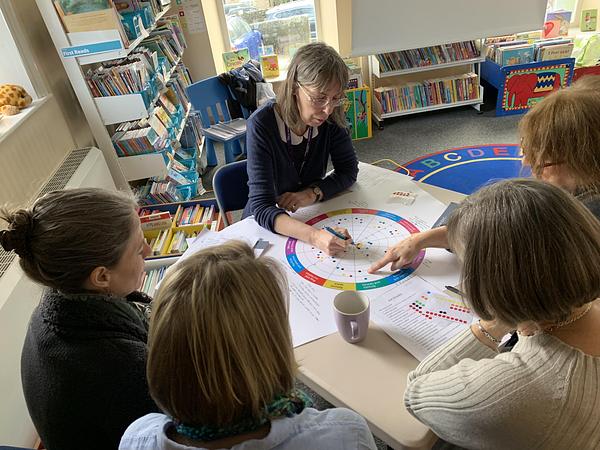 The culture change needed to work alongside
communities
One of hardest bits has been the culture change from officers coming up with technical solutions to sitting down with partners and citizens to do collective problem solving. We are still definitely in the midst of this. Nine times out of ten citizens have solutions and don't want us in that space. Sometimes the solution is for us to get out of the way, or give them that piece of land. That dynamic only starts playing out when you start having those conversations.
A key lesson for other councils is not to underestimate the extent of this change involved in shifting from traditional service delivery, based around consultation, to working alongside communities, based on genuine conversation and engagement. It's almost chalk and cheese. I think the biggest challenge is this internal cultural change within organisations.
The pandemic and the community response to it has helped with some of this, because it allowed lots of people to coalesce around a single outcome of keeping the vulnerable safe.
"One of hardest bits has been the culture change from officers coming up with technical solutions to sitting down with partners and citizens to do collective problem solving."
Recently we've worked with partners in the voluntary sector to try and articulate our shared values, to use that as a point of support and challenge for the way we do things. We've done this through collaborative workshops, and what we've ended up with, instead of a strategy paper, is a set of key principles like trust, openness and recognising who is best to do something instead of assuming it should always be the council. These are articulated in a way that's understandable and relatable, and means we can share them with senior managers and say: what does it mean if we work in that way?
It's a big shift in mindset from 'we the council', taking away those boundaries, and recognising we are all people working in a place, and the citizens of that place should be the ones saying what's happening here.
The role of councillors
You have to make sure there's a really strong connection between participatory and representative democracy. We make a conscious effort to ensure councillors are front and centre, right at the beginning, of whatever engagement we are doing in a local place. Not least because of their insight about places, but also because we need to equip them to be the best leaders of their place they can be, representing their place and, where relevant, taking outcomes from engagement back into the council. We've got a role as officers to create the conditions for that to happen really well and make the best of both.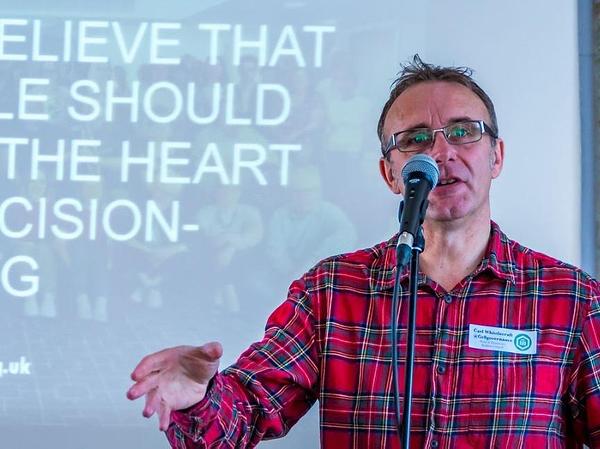 Centralisation
is a
barrier
I'm sure we could be much further on this journey if we didn't live a country that has got the most centralised government and centralised democracy in the whole of Europe. The council is always going to be limited by the circumstances within which we are all working.
#Notwestminster
We run Notwestminster as volunteers because we wanted to learn from others and share our learning. And we felt that there wasn't a place for those local democracy focussed conversations like there was for other aspects of local government. We took a bit of a punt and were really supported by the council.
"A network

in itself is

a valuable thing. It's the same as thinking about connections in a neighbourhood, fundamentally people being connected in that neighbourhood is the thing that enables people to

have aspirations, look after each other or deal with challenges."
The main part has become an annual event in Huddersfield that's gone on to create a network around local democracy. It's brought together really interesting people in quite a social space, and created connections that have enabled people to work together and get to know each other.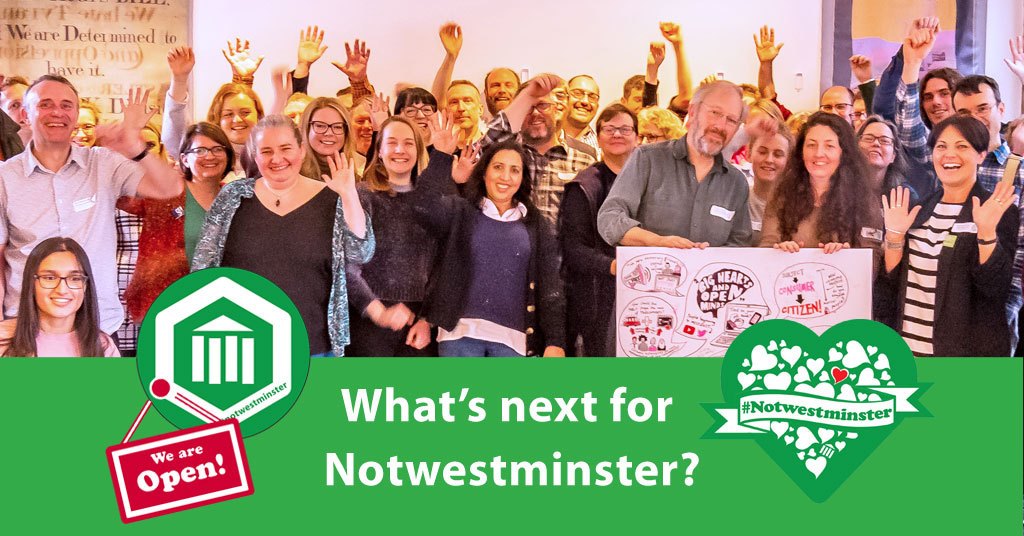 A network in itself is a valuable thing. It's the same as thinking about connections in a neighbourhood, fundamentally people being connected in that neighbourhood is the thing that enables people to have aspirations, look after each other or deal with challenges.
To give a tangible example of the impact, 75% of the people who shared insight as witnesses in the Kirklees Democracy Commission's public inquiries were people who we knew from Notwestminster. In the democracy network I've found folks are always ready to help out and give their time.
Changing
what local democracy means
There's a need to change the narrative about what local democracy is. It's not just about voting at election time, and a lot of people are put off by national politics. So there's a need to talk about what local democracy means - that it happens where you are, and everyone in a place can be part of the story of what happens. So maybe councils need to tell that story better, and not let the narrative be shaped by other things.
Find out
more
Learn more about the Kirklees Democracy Commission and the ongoing work to improve local democracy in Kirklees at: www.democracycommission.org.uk or @kirkdemocracy
Find out more about #Notwestminster and get involved at: www.notwestminster.org.uk or @Notwestminster
Listen to the full audio of our conversation here.
You can also download a summary of recent engagement activities from Kirklees Council below: