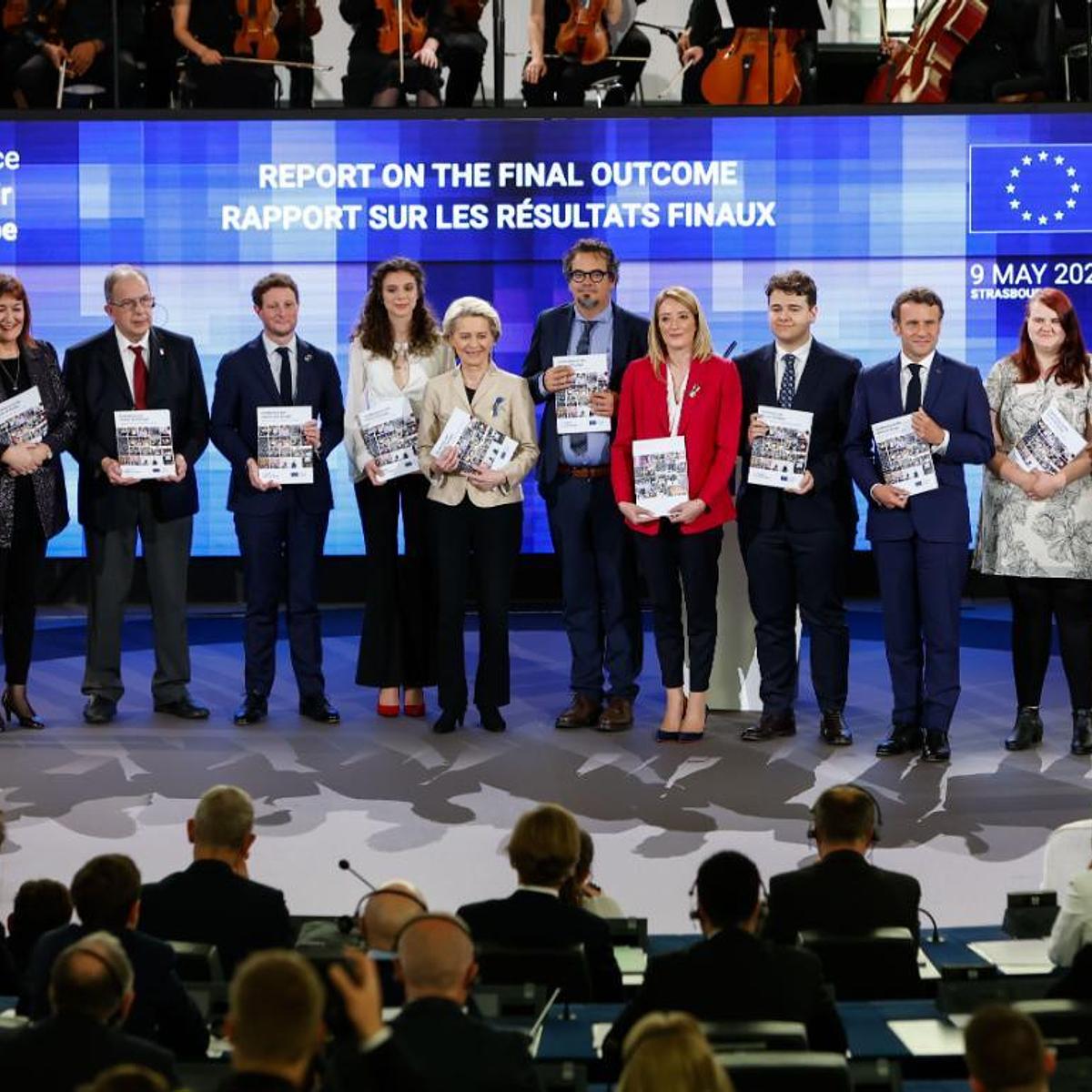 End of the Conference on the Future of Europe, beginning of a Europe for all?
As official evaluator of the Conference on the Future of Europe, Demsoc asked Ward Den Dooven, project Officer at Demsoc and Associate Fellow at the Egmont Institute to share his views on the process.
On Europe Day, May 9th, the final report of the Conference on the Future of Europe (CoFoE) was presented to the Conference's Joint Presidency: Ursula von der Leyen, Roberta Metsola and, with France at the helm of the Council's rotating presidency, Emmanuel Macron.
One final time it was haunted by dual perception. On the one hand there were those closely keeping track of CoFoE noticing what was happening: a major experiment of participatory democracy that just might end up permanently reshaping the democratic landscape. On the other hand, unfortunately enough, the attention given by the wider public to the closing event of the Conference was much in line with the entire Conference process: elements that could have been improved being eagerly debated on, many of its actual accomplishments went largely unnoticed.
An experiment of transnational citizen participation
This should however not temper enthusiasm. In fact, this unique occasion – the end of the biggest experiment of transnational citizen participation to date – might even be the catalyst of making May 9th a Europe Day for all Europeans. Why so, one might ask? Amongst all proposals and measures included in the final report, rests the idea of making Europe Day a public holiday for all EU citizens. This should contribute to fostering a common European identity.
However, let us first shine a light on the final phase of the Conference, as the objectives of the process were much broader. With the goal of hearing citizens' voices on the future of Europe, did it contribute to the creation of a European public sphere?
Reflecting on the Conference
With discussions on the future of the EU taking place on all levels of governance, what did the Conference deliver after involving and hearing European citizens for a full year? And what are the next steps to be taken?
In concrete terms, the different components of the Conference Plenary (including representatives of the European Commission, European Parliament, Council, national parliaments, and citizens) agreed on a report to be presented to the Conference's joint presidency. This report consists of 49 concrete objectives on all nine broad topics that were discussed throughout the process. These objectives are complemented by 325 measures to achieve them.
Looking at this final report, two initial reflections come to mind: one of the Conference's aims was to create debates on the EU's future on all political levels. Does the report accurately mirror the different channels in which this debate took place? And where does the discussion on treaty change currently stand?