Democracy - our purpose, and our plan for change
Since we were founded in 2006, Demsoc has talked about its mission to make democracy better. "Making democracy work for the 21st century" was our first mission statement. But what does that mean? What does it look like when democracy works, and when it doesn't? That's where our Theory of Change comes in.
It sets out the logic behind what we are trying to do – what we mean when we say we want democracy to work, what the practical steps might be to get there, and what we are and will be doing to make them happen. It's based on assumptions – we are learning and experimenting as we go – and it was developed in collaboration with everyone in the organisation and some of our closer partners.
As the world changes, it will too. And we are keen to hear from you on where you agree, where you disagree, and how we can work together to make democracy work for everyone.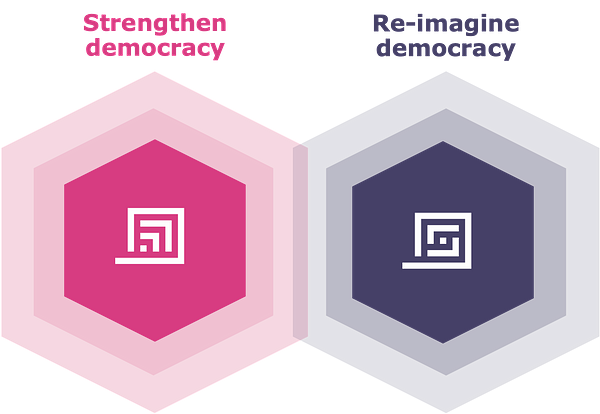 We are conscious of the threats to democracy, from those who openly reject it, from those who give the name democracy to unequal or oppressive systems, and from those who, while supporting it, want to disrupt or warp decision making in their own interests.
Our wider movement
We consider ourselves to be part of the wider democratic movements that include a variety of organisations working at different levels and with different scopes.
For us at Democratic Society, these movements include – among others - those who work to secure human rights and democracy in places where these are under threat; those who work in communities to enable citizens to exercise their rights with confidence; those who develop new civic and democratic technology; those who develop new processes and modes of democracy; and those who want to expand the frontiers of participation and open governance.
Our theory of change sets out the places within those movements where we see ourselves best able to work, to contribute most effectively to collective action that advances democracy across Europe and the world.
Our roles
Activists:

Encouraging people to take on their role as citizens, and going deeper into communities to make democratic conversations more inclusive and equal

Creators of democratic spaces:

Creating and holding informed, open and inclusive spaces for democratic action, in person and online

Reformers:

Working with government and other decision-making institutions to ensure participative methods and citizen voice are at the centre

Innovators:

Working collaboratively to create and implement new democratic methods and governance, inside traditional government structures and beyond them

Connectors:

Connecting citizens and democratic spaces across Europe and the world to create a networked democratic infrastructure
As well as our individual roles, we are also partners. We work in partnerships to build a stronger and better-connected democratic sector with civil society, social movements, governments and other democratic actors. Our home region is Europe, though we are open to growing beyond Europe in the future, and we want to find opportunities to learn from others and share our learning more widely.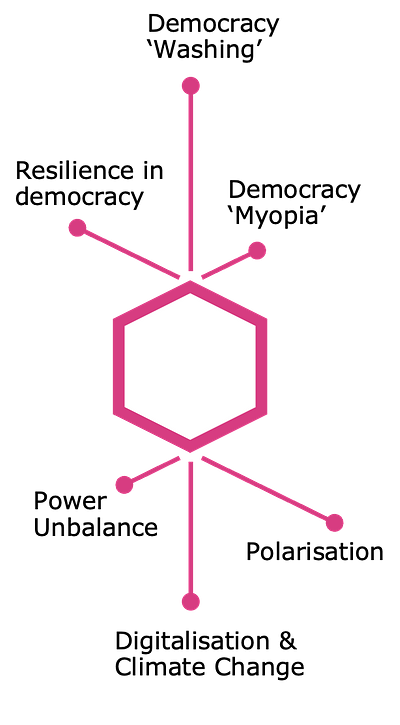 We seek to address six significant challenges and trends that we have identified for democracy in our work:
Polarisation
As polarisation shrinks common public spaces, people are increasingly exposed to very different information and we end up having less in common. If we don't address this first, democracy will have less capacity to face the most pressing issues of our time. What we are witnessing is the polarisation and politicisation of participation needs, as more populist parties and groups fill the gap that old institutions and modes of democracy have left open. As one of our roles is to create inclusive spaces for democratic action, polarisation is a problem we should address directly, by supporting citizens to develop new critical skills and literacy, but also spaces for listening and dialogue.
Democracy 'Washing'
From our work, we have observed an increased mismatch between more citizens wanting to be engaged on one hand, and the lack of actions and results on the other. In these instances, democracy washing risks using the label of "democracy" as a guise, to maintain current power relations and interests rather than challenging them. When trust from the public diminishes, this might lead to lack of interest in future participation in the longer term.
Democracy 'Myopia'
There is a risk that our democracies might not have the capacity, capability and means to safeguard the future. Democracies have many times struggled to deal with the long-term, both in terms of addressing the long-term consequences of people's actions, and to plan for future generations and build strong visions for the future. We need to explore the drivers of short-termism and introduce democratic designs that can help re-imagining our futures.
Power Imbalance
This is one of the root causes of many of the problems of democracy that we see today. As a more vibrant civil society is acting and taking demands to the streets and as social movements are increasingly interested in ways in which they can institutionalise their demands. We will be thinking about what role we could play to ensure movements are influencing political change. We also observe with preoccupation how the power of the economic sector in the public sphere is increasing with less accountability.
Digitalisation
and
Climate Change
These are two specific but interrelated processes that raise new and unprecedented issues for democracy to address, and that will increasingly impact our work for the future. Both are areas in dramatic transition that put additional pressure on democracy to develop new expertise and fast responses. There is a need to better understand and address the potential benefits and harms that internet and digitalisation could pose to democracy. Better governance and citizens engagement are also needed to advance climate action, as well as democratic action.
Resilience in democracy
As societies go through unprecedented change, we need to build resilient democracies that can better deal with transitions and institutions that are better equipped to respond to present and future crises, in ways that are inclusive and just.
The Democratic Society exists to design, create and support democratic civic spaces of dialogue, through which everyone can develop the skills and confidence needed to involve themselves in the decisions that shape their lives; and those who exercise power can do so in continuous conversation with those who are affected by it.
We know change does not happen easily, nor does it occur in linear ways. We are dealing with complexity and operating at different scales. If we intend to achieve our mission, we need to add systems-approaches and awareness to our work. This presents an opportunity for Demsoc. We can lead at the local, European, and global levels as systems orchestrators, innovators, and agitators. With Strategies for a Networked Approach, we can work on structural change in local places and cultivate the networks and relationships necessary to shift systems. And, with a Macro-Systems Strategy, we can take insightful and audacious action at the European and Global scale. More specifically, we could coordinate democratic practitioners and actors to identify - at sector level:
what forces and conditions support or constrain change
what joint actions are available to take
how we can act together with cohesion to achieve democratic systems change
In our field we see change happening as a result of three main factors:
Building the conditions for change

: For change to happen, people need to have (or regain) the trust in democracy and have the confidence, the skills and the opportunity to take on their role as critical citizens and take part in democratic conversations. Cultivating a

healthy (digital) public space

in the next years to come is for us at Democratic Society the main condition for any democratic change to happen.

Building the narrative and images of the change we would like to see

: Too often people only act

against

the status-quo, rather than being

for

an alternative vision of what our democratic places might look like. We believe that producing new imagination and narratives of the change that we want to see would be a better way to mobilise people to act. When these alternative practices and examples are already available, we will amplify these voices to make our case for change.

Building the movements that will bring the change to life:

We consider ourselves to be part of wider

democratic movements

that include a variety of organisations working at different levels and with different scopes. Our theory of change sets out the places and issues within that movement where we see ourselves best able to work, to contribute most effectively to collective action that advances democracy across Europe and the world.
Who we are and will be working with?
We realise that we need to work with diverse actors within an ecosystem that are all crucial to make change happen. Based on our ToC we will try to expand this list significantly and diversify who we work with to ensure we engage with groups like artists, activists, researchers, grassroots groups, civil society, as well as companies, governments, and journalists at local, national and European level.
We will join others or initiate projects & ideas if:
These help us maximise our impact at system level, by building stronger and

networked democracies from the local to the European level

They allow us to expand

democracy beyond government

and bring the democratic principles and ethos in all the places where these can create transparency, better decision making and more opportunities for individuals to get involved
They reach out to

new types of actors

and allow us to diversify who we work with (e.g. engaging with economic actors, social movements, young people, etc.) We will be paying particular attention to are those who are under-represented and disenfranchised
They introduce

future methods and increase future literacy,

in order to respond to the challenges of the short-termism in our democratic infrastructure
They address the

root causes

of the problems we see with our democracies and help us connect people and

power

in our work
These support

citizens' action and agency

and contribute to building and developing their critical citizenship skills
Limitations and Challenges
Democratic Society, our members and our partners choose to address the systemic issues in democracy, and take on a broad scope of challenges and societal dynamics. In doing so, we are particularly aware that comes with three inevitable complexities;
We can only enable democratic action at scale and with significant impact when we collaborate with diverse partners, on an equal footing. Together with our members and as part of existing movements for democracy, developing lasting solutions also implies discovering the needs and requirements of committed, human collaboration.
Secondly, working at systems level implies we must strategically respond to information asymmetries and non-linear impact pathways. It requires it to be conscientious with the details we have, and courageous with the known unknowns. An organisational acceptance of the complexity in which we work, will be our best enabler for adapting to future needs.
And lastly, working at systems level is also difficult because some systems are intangible or too complex to be mapped. And yet, it is critical to take a systems approach. Without it, we miss the opportunity to recognise and engage our work at the scale of impact it truly has; to create synergies within and across the sector; to amplify the positive trends and map the dependencies; and to act systemically and systematically to address all democratic threats, and opportunities.