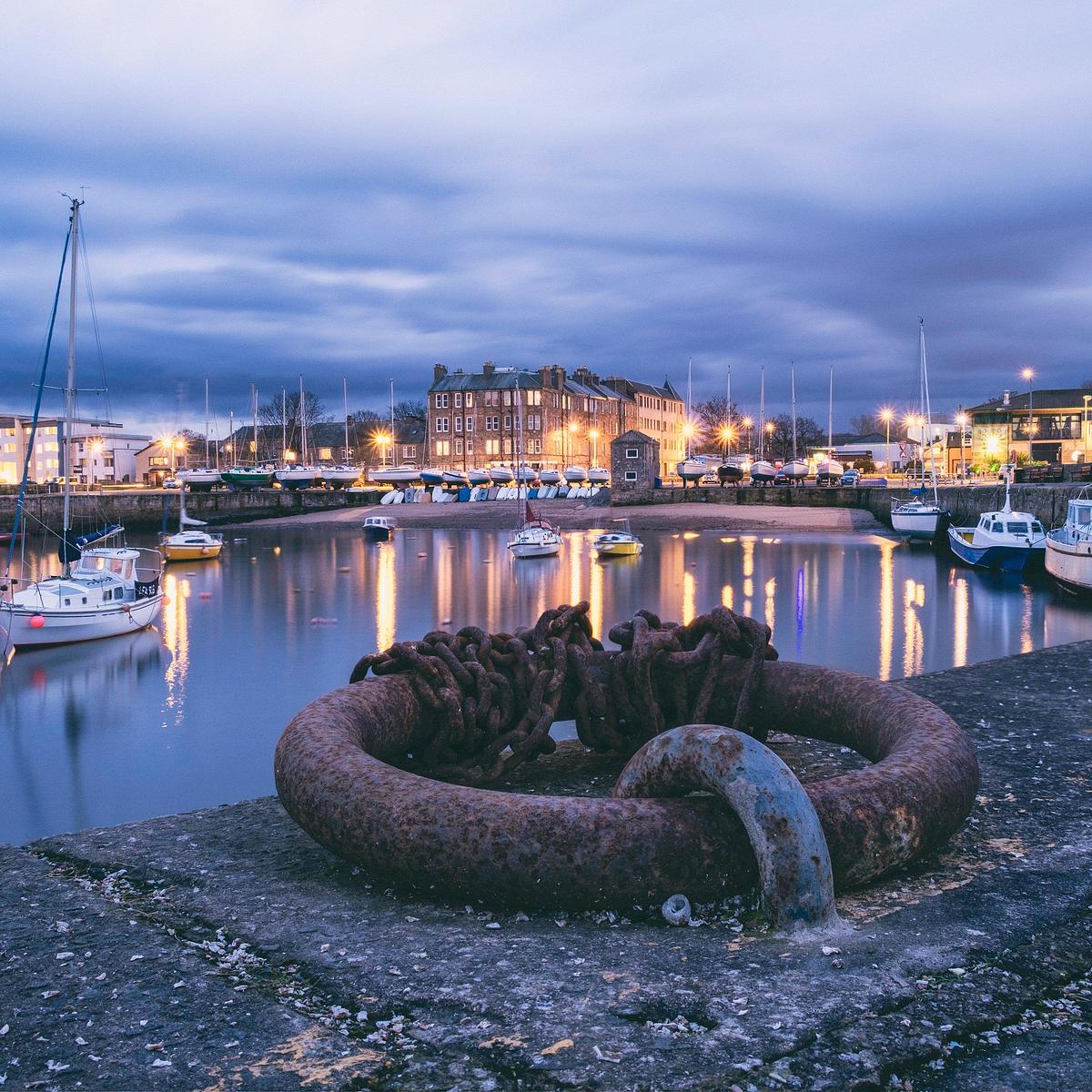 Loving Life in Musselburgh: Community led initiative to improve health and wellbeing
Community led initiative to improve health and wellbeing. Working with the community to bring a whole systems approach to tackling obesity
Overview
Loving Life @ Musselburgh is a local initiative led by Environmental Health Officers Laura Gunning and Holly Macdonald (pictured) using a new Whole Sytsems approach to improve community health and wellbeing. It has received funding as a national pilot to explore the role of community decision making in reducing obesity and type II diabetes. By facilitating collaboration between a wide range of community organisations, groups and representatives it aims to identify local root causes of obesity and to formulate a community action plan for improving health and wellbeing. It was an attempt to do decision making differently - giving the community tangible power to make things happen on their doorstep, and turning participation from something arduous into something easy, or even fun. This blog post shows how they did it. It also shows some of the key considerations needed for a whole systems approach to work, particularly when engaging with stakeholders online.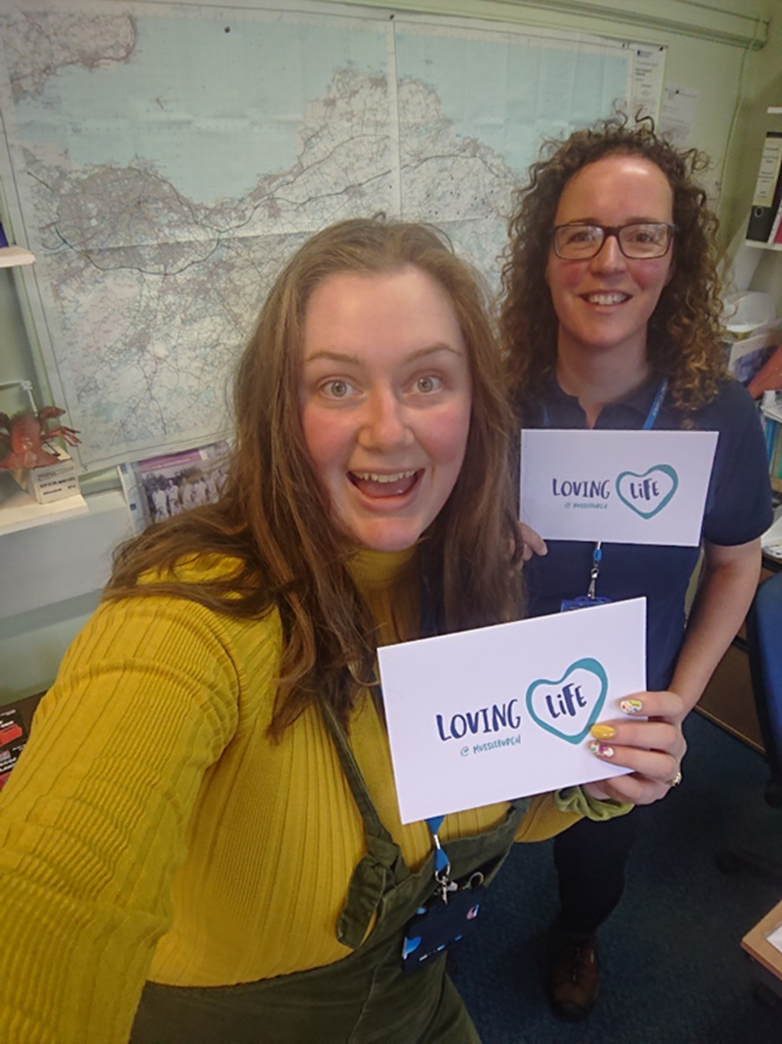 Participatory democracy in Musselburgh
Musselburgh haven't shied away from testing and trying out other forms of participatory democracy. Musselburgh Area Partnership used a Participatory Budgeting process called Your Voice Your Choice to engage with the community and encourage people to propose ideas, prioritise and vote on proposals for how to spend budgets for their area. Now Musselburgh are 'Loving Life' and tackling obesity through a participatory whole systems approach.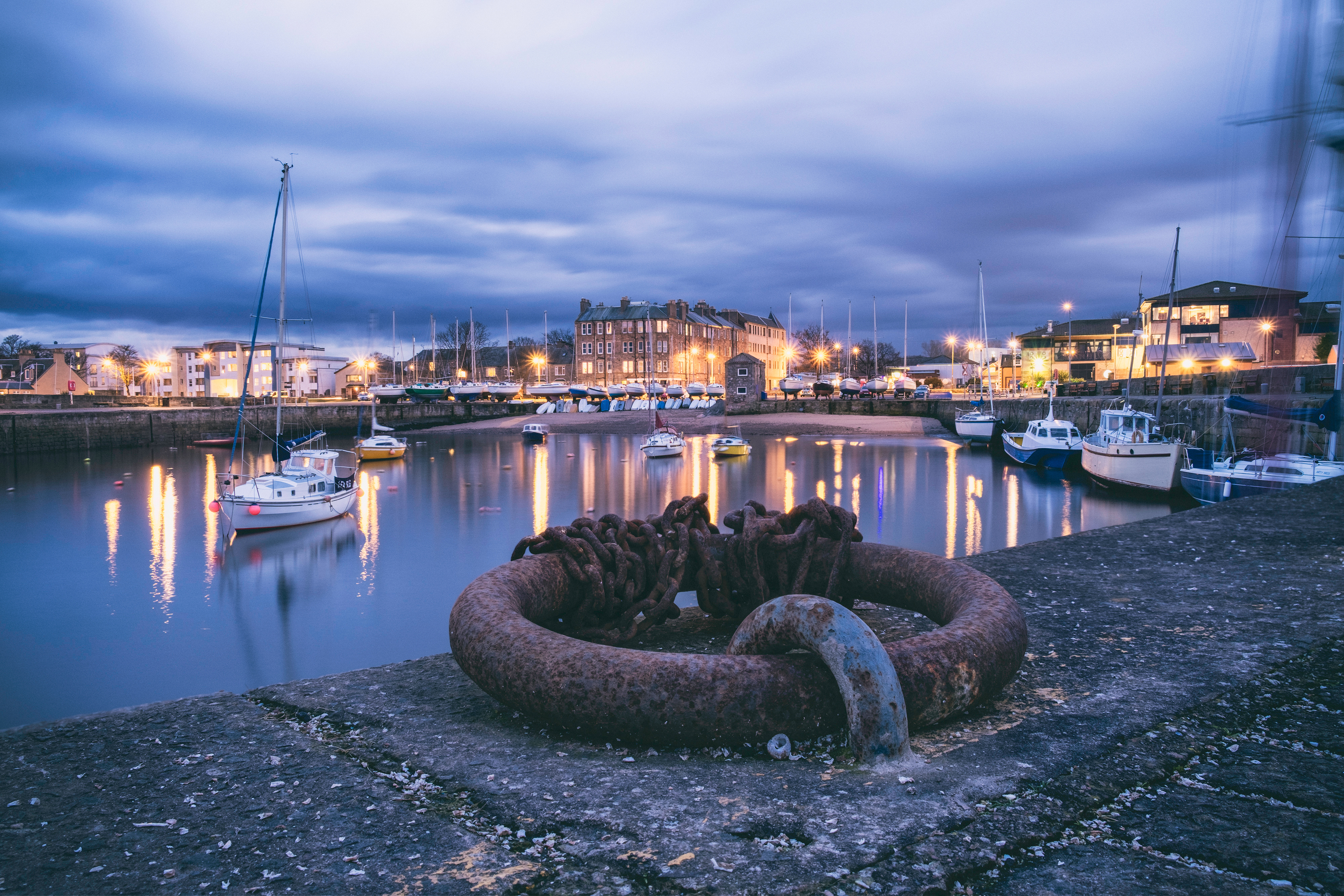 About Musselburgh
Musselburgh is the largest town in East Lothian, making up almost 20% of its population. It has a large range of community facilities and services: leisure centre, oldest racecourse in Scotland, one of the world's oldest golf courses, Brunton Hall Theatre, parks and open spaces, library, wide range community groups, community drop in centres. (Pictured: local Musselburgh participants' responses on what the best thing about Musselburgh is from the workshop)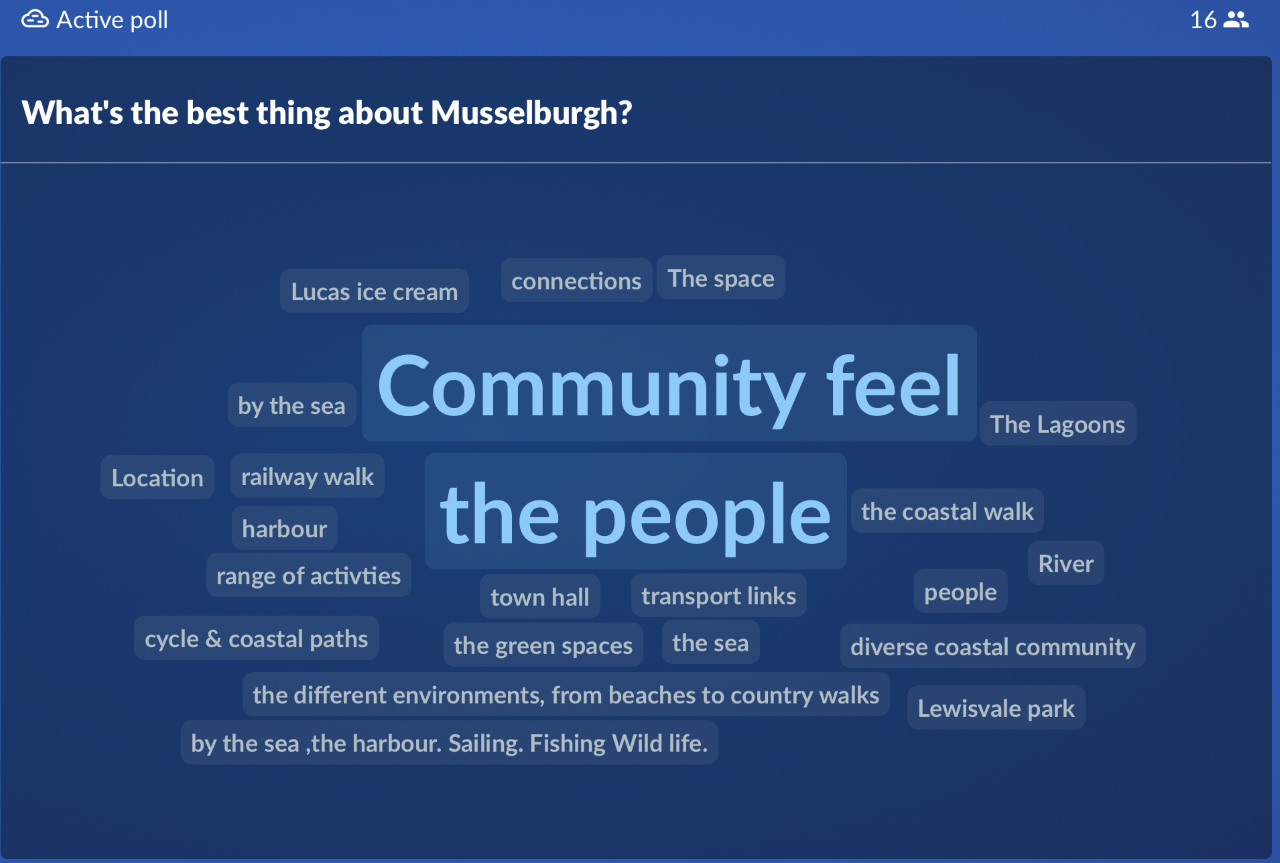 Musselburgh are 'Loving Life' and tackling obesity: how did it start?
The pandemic has been difficult for most people, especially for our collective health and mental wellbeing. So enabling healthy weight and lifestyles is more relevant than ever before. East Lothian has been progressing a whole systems approach to diet and healthy weight. Health inequality and deprivation has a strong evidential link to obesity. Health inequality and deprivation is defined as a set of circumstances that an individual is born into outwith their control, which can limit their chance to live a longer and healthier life. Deprivation directly increases the chance of poor health and deprived areas have poorer outcomes for health.
East Lothian council's equality statistics showed that around 32% of adults living in the most deprived areas are obese, compared with 20% of those living in the least deprived areas. East Lothian Council has been tackling the problem head on by moving their whole systems approaches -working with the public and community organisations- into an online world, navigating new tools and methods to engage with their community and get the results: a set of actions to get the population of Musselburgh overall healthier in terms of equality, weight, diet, thinking, feeling and being.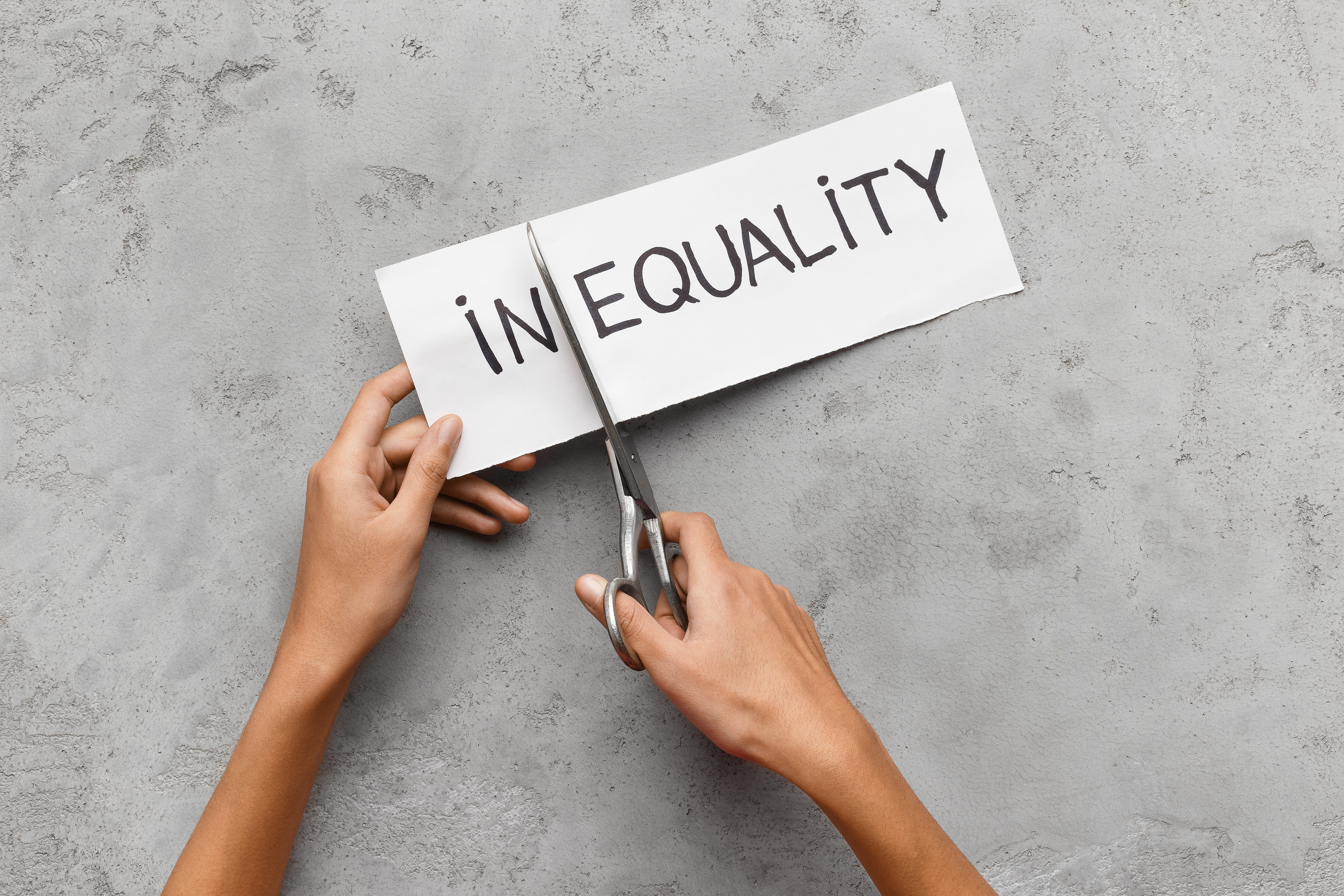 What does a whole systems approach mean?
A whole systems approach to tackling obesity is about applying systems thinking, methods and practice into understanding more broadly the public health challenges. Recognising that society is complicated - with lots of moving parts that all affect each other, and you need to look at things together to make sense of it. Why is this approach important to tackling obesity?
A whole systems approach means looking at why obesity exists, what interventions there are, and what is at stake in tackling the issue. For example small changes to the local environment can change lifestyles, impacting on people's health and their need for local healthcare services. Collaboration with the community has been used to help map the local system, identifying challenges and connections and developing collective actions to tackle the problem.
Obesity Action Scotland defines a whole systems approach to public health as "an ongoing, flexible approach by a broad range of stakeholders to identify and understand current and emerging public health issues, where by working together, we can deliver sustainable change and better lives for the people of Scotland".
Using whole systems approaches can have many benefits such as:
addressing issues together, for example, actions to address obesity benefit more than just people's health but benefit other local assets such as employment, environment and connectivity;
mapping and identifying local assets can help paint a picture of the local strengths of communities and where improvements are needed;
bringing together community stakeholders, local authority decision makers and other organisations to work together can have added benefits such as increased trust and transparency, better relationships, better overall understanding of how systems and the local context works;
stronger and more sustainable solutions that work for more people.
Whole systems- key principles:
Environment for change
Shared aspiration
Strategic learning
Collective action
Communications mechanisms
Governance structures
Community engagement
Systems thinking
Mindset
Musselburgh's journey so far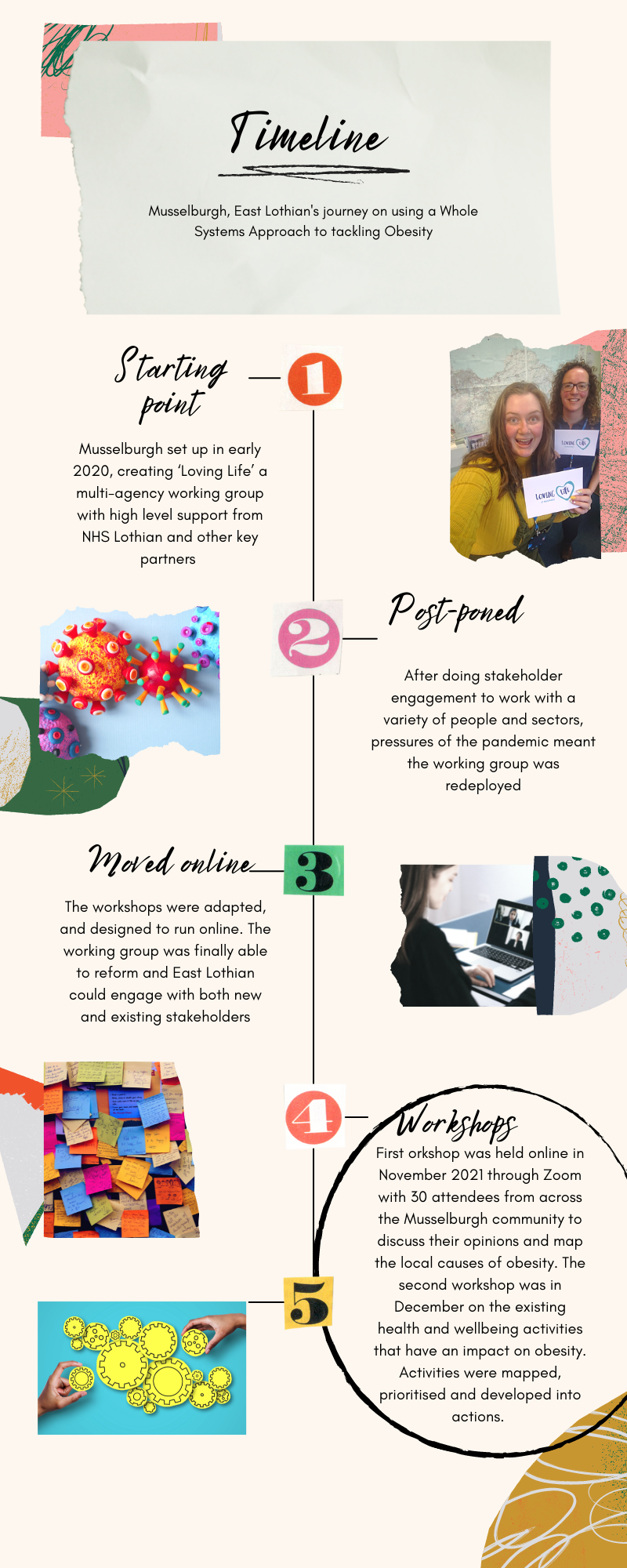 Workshop 1
The first workshop was held online using Zoom in November 2021 with 30 attendees from across the Musselburgh community. The main aims of this session were for participants to share their opinions on the local causes of obesity, to agree the top four priority causes and to map the root causes of these. To do this participants were split into smaller breakout groups and used Miro to map out causal links to their prioritised main causes of obesity. Here is the final causal map of obesity in Musselburgh. Causal link means something that has an unintended consequence or effect on something else. For example, cycling would have a causal link to reducing obesity and this would have an 'opposite' effect because obesity is getting smaller because of it. A new sweet shop, however could be the 'same' because it is making obesity bigger. A visual code on Miro was used to remind facilitators how to map this as the discussions and out-the-box systeming thinking were more important. Here is a helpful video on unintended consequences that can help explain the theory.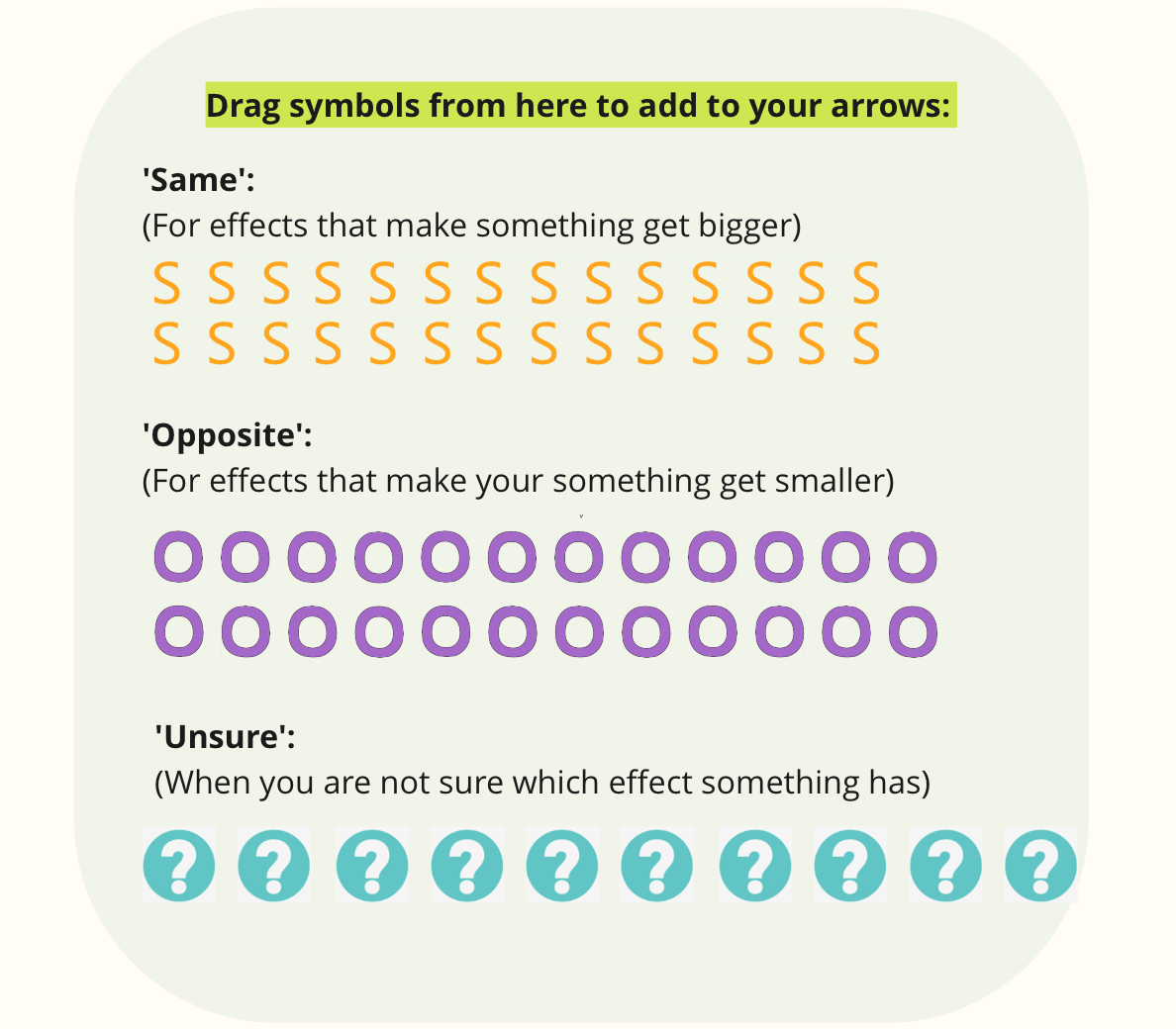 Post workshop, they collated the root cause maps (12 in total) into one Community Health and Wellbeing Map. Four key themes had emerged: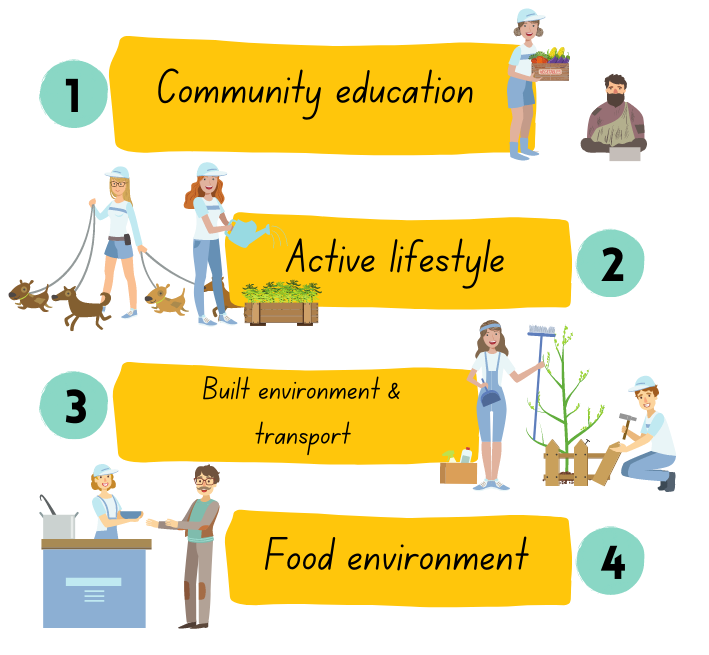 They created an online interactive presentation of the map, which is available here.
Workshop 2
Workshop 2 was held online in December 2021 with almost all participants returning plus some additional stakeholders. This showed considerable local support for the project.
The aims of this workshop were to:
· Review the community health & wellbeing map
· Map on any existing activities (e.g., groups, initiatives) happening in Musselburgh
· Share ideas for new activities
· Choose three priorities to progress further – these could be either existing initiatives or new ideas. They were chosen by considering current status and potential effect
Workshop feedback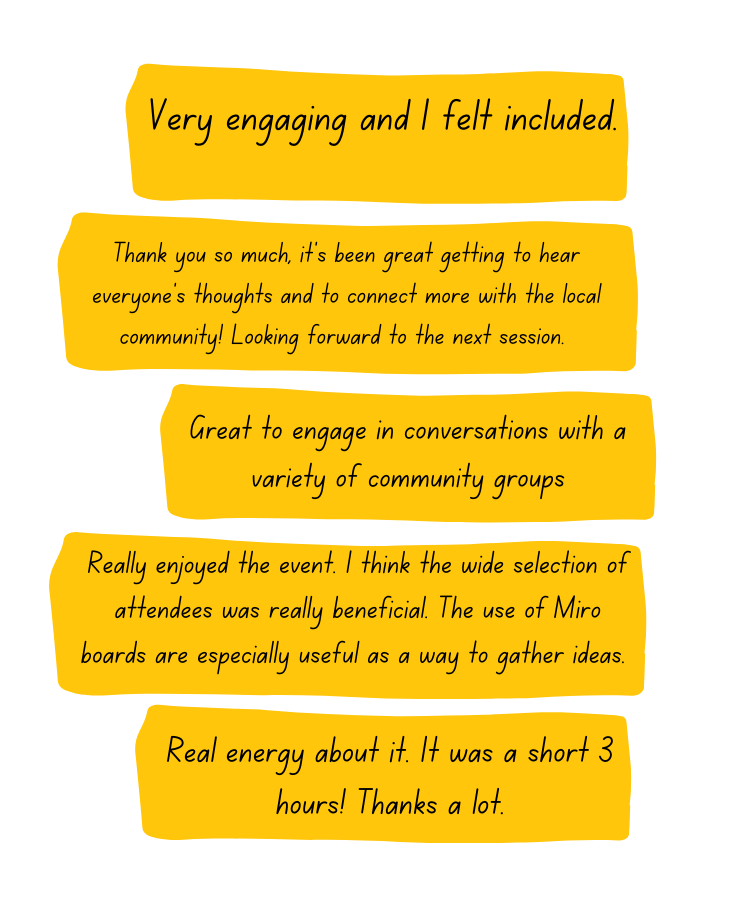 Our Learning...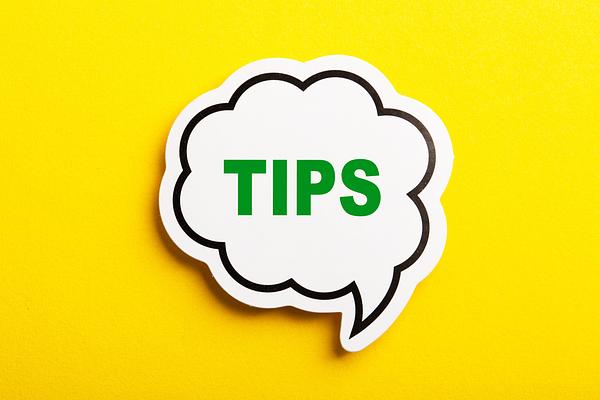 Loving Life's Laura & Holly's top 5 tips from the workshops
Keep it simple. When mapping the local system and using causal linkings 'same & opposite' -this can be quite complicated to a public audience.
Discussions need to flow naturally. Similarly when mapping the local system with causal links it was difficult to keep comments neutral as this changes what participants said and the detail and depth of their lived experience and local knowledge.
Keep the workshop design as engaging and short as possible by cutting down on any unnecessary theory.
Use prompt questions for facilitators to use in quiet moments and to help keep the discussions on topic.
Use a facilitator and notetaker per breakout and also a separate event host to explain things in the main Zoom room.
Our top 10 tips for designing a participatory process with whole systems approach in mind
Whether designing online or in-person the process needs to have a clear purpose and goals
Create a timeline and design checklist to make sure you are building in everything you need including time to reflect, adapt and change where needed -

example participatory design plan here

and

running an event online or in-person

When considering designing with a whole systems approach, there are a series of questions that can apply to any sector, organisation or context to start working with systems thinking. These include: how do we inform our decisions? What are we not seeing? How do you rethink the way we work? We recommend

this comprehensive list shared by Phoebe Tickell

.
Design to think about a future of hybrid online/in-person processes and keep in mind multiple entry points for people to get involved that fit in with their lives through multiple methods, strategies and/or events to reach distributed people in their neighbourhoods
Develop an engagement strategy that uses research on demographics- think inclusivity and accessibility
Think about barriers, skills and training plans in advance. For example, train up and brief facilitators to ensure discussions are facilitated neutrally and inclusively, and consider adaptation whether working online or in-person.
Break process into manageable chunks i.e set up a timeframe and assess what is manageable to reach the goals i.e one event or multiple events
When recruiting people- asking for excessive personal data or complex verification can turn people away
Consider whether your participants might need anything before, during or after the event/s. Information packs, tech support, devices, internet, snacks/sweets, quiet room, reflection space, breaks
Build in evaluation, feedback and learning loops- how will you know if you have succeeded? How will participants know what's happened to the outputs from your process/event/s? How can this be adapted and evolved for next time?
What next?
The Loving Life @ Musselburgh team are collating the project action plan based on outputs from the stakeholder workshops. Community members will be invited to join the project working group and take shared ownership of project implementation.
Are you in East Lothian? You can get involved by emailing Laura Gunning – lgunning@eastlothian.gov.uk. Find out more about whole systems approaches tackling obesity in Scotland and watch this webinar presentation here: Obesity Action Scotland | Healthy Weight For All - Whole System Approach