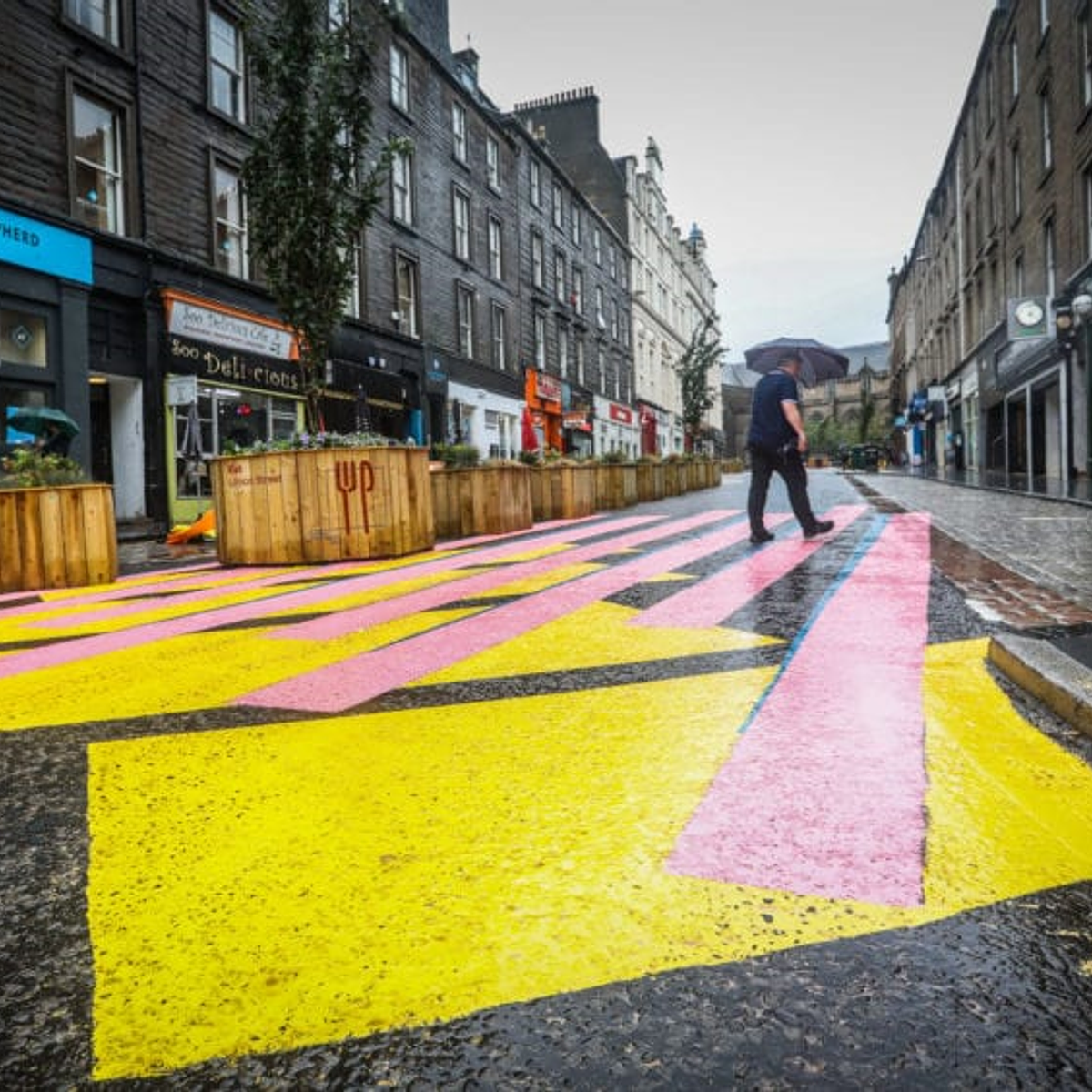 Service Design Connects a Community in Dundee
What happens when a service design approach is used to bring people together to make decisions about the use of a street?
Background
When a Dundee city centre street was closed to through traffic in July 2020 many were upset and sceptical about the potential benefits. The Service Design Academy worked with UNESCO City of Design Dundee and Dundee City Council to facilitate a fast paced, compelling and responsive engagement initiative with businesses to support the pedestrianisation of the city's Union Street.
Funded by Scottish Government and managed by Sustrans Scotland, Spaces for People is a temporary infrastructure programme in Scotland offering funding and support to make it safer for people who choose to walk, cycle or wheel for permitted journeys and exercise, while physical distancing is in place during Covid-19.
Dundee City Council (DCC) has moved to make the city's streets more walker and cyclist friendly, to encourage workers to use active travel as lockdown eases. DCC is committed to improving engagement with, and services for, its communities, putting employees, customers and partners at the heart of all transformation and innovation.
DCC has recognised that to maximise community engagement and to increase the pace of improvement, they must harness and embed a way of doing things that encourages innovation and collaboration.
UNESCO City of Design Dundee (UCODD) partnership started with the Service Design Academy in 2018. What started with sharing a brief for an SDA User Research bootcamp, "What can be done for design in Dundee and for the designers in the City", soon developed. UCODD were impressed with the depth and breadth of the insights produced by the SDA delegates. They were confident that the refreshing approach taken by SDA – challenging assumptions and not jumping to solutions – was exactly what was needed. Listening and understanding the needs of local businesses and residents would shape the redesign of a busy thoroughfare to be car free and pedestrian friendly.
Let's take a moment to understand why UCODD and DCC believed that a Service Design approach was ideal for Union Street to be redesigned with not just for the community.
Service Design is concerned with how things work for people in practice. It looks at the lived experience, behaviours and aspirations of people and organisations, and how these are influenced by broader system drivers and conditions. It helps to connect policy intent with the complexity of how things are practised on the ground
Taking a project through human centred design stages ensures that you:
build deep empathy with the communities and individuals you're designing for
figure out how to turn what you've learned into a chance to design a solution
build and test your ideas before finally putting them out into the world
Its collaborative processes create an environment where:
everyone's voices are heard and they have a role to play in innovation
a culture is sustained that imagines alternatives and helps bring them into being
a compelling vision is built that appeals across community groups
stakeholder alignment is driven.
The Programme
In partnership with UNESCO City of Design Dundee (UCoDD), Service Design Academy (SDA) facilitated two activities:
One
Development of an interactive online tool for local citizen engagement and user research. We introduced users to Padlet, for citizens to share their thoughts and insights on the pedestrianisation of Union Street. It was prepared with thoughtful, open questions and distributed throughout online platforms with the support of UCoDD.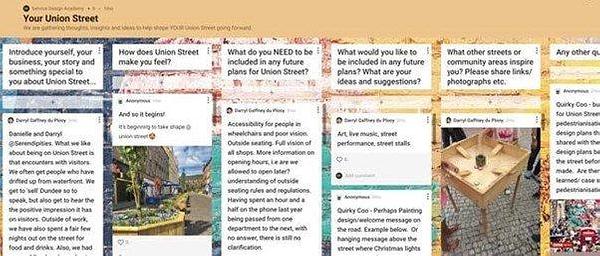 Two
Two dates were arranged for online collaboration. This brought together local businesses, representatives from the local authority and elected members. Both events were led by SDA Consultants using their card game "Connecting Communities".
The game is designed to increase democratic engagement, for participants to feel empowered in providing solutions to real life problems and challenges.
Chris goes on to say;
"The gamification of service design tools is a pioneering way of engaging groups quickly to encourage collaboration and empower decision making. Participants worked through themes and levels of the game to discover and define problems before moving forward with developing solutions through speedy idea generation."
Workshop activities were designed to maximise interaction between participants, enable collaborative working and expose everyone to a range of creative service design methods and tools.
The groups were overwhelmingly positive on the content of the workshop, how it supported creativity, challenged assumptions and supported deeper understanding of stakeholder needs.
Workshops Overview
The session started with a social dreaming exercise, engaging participants to consider what the City Centre of 2030 looked like.
Next, we took an empathic approach to thinking about Union Street by using an empathy map and asking key questions such as, how are people feeling about the road closure? What are they seeing, hearing and noticing all around them? The map looked at the current picture from 3 perspectives. A business owner, the Council and a local person.
A shared vision exercise followed, to bring individual aspirations together to create a cohesive vision based on what is important to the stakeholders moving forward. After the vision exercise, the Connecting Communities game started. Participants were asked to pick what kind of street they would like to work on. This resulted in four groups working simultaneously through their understanding of a cosy, safe, vibrant and communal street. Ideation was introduced at this point to get initial thoughts, ideas and suggestions out on the table.
We paused ideation, asking the collective to consider what the 'Street from Hell' would look and feel like. This 'flipped thinking' exercise was incredibly useful in discovering what the participants did not want their street to become.

The last activity looked at keeping it local. How do we put the community at the heart of Union Street? This resulted in more creative ideas being produced and identified individuals whom the participants would like to be involved.
Encouraging the third sector to get involved was a popular idea. Striking up impactful relationships with local charities, putting on pop up events to increase footfall in the area, would bring a real community feeling to the street.
Outputs supporting delivery and implementation included using natural materials to create space for outdoor dining by installing wooden planters, maintained by Bonnie Dundee volunteers, and selecting bold, bright welcoming colours for the street mural designed by recent DJCAD graduate Callum Laird,
Valuable additional outcomes of SDA's Connecting Communities approach with Union Street's local businesses and residents are:
increased support for the pedestrianisation development
encouragement for future collaboration opportunities
the desire to make change at pace
to discover what the main goal for the street is in the short and longer term
to identify other opportunities where the street can join together to source funding.
84% of traders say that the changes have been positive for the street, with 62% saying it has been good for their business. In the survey carried out on behalf of Dundee City Council, retailers in Union Street also report 68% of their customers saying that they feel more positive about the area.
Mark Flynn, convener of Dundee City Council's City Development Committee said:
"Keeping vehicles off the street was a way of doing something different to try to open it up to locals and visitors so that they had more time and space to use the shops, pubs, restaurants and cafes.
"It has gone down so well that the street will remain closed to through traffic until the end of January, but we will continue monitoring the change carefully and engaging with businesses over the coming months."
The pilot programme due to run until the end of September has now been extended until the end of January 2021 with UCoDD and Service Design Academy facilitating the co-design of Spaces for People in communities in five District Centres in Dundee.
Some photos © D C Thomson. With thanks to Service Design Academy, Dundee and Angus College for this contribution to our blog.