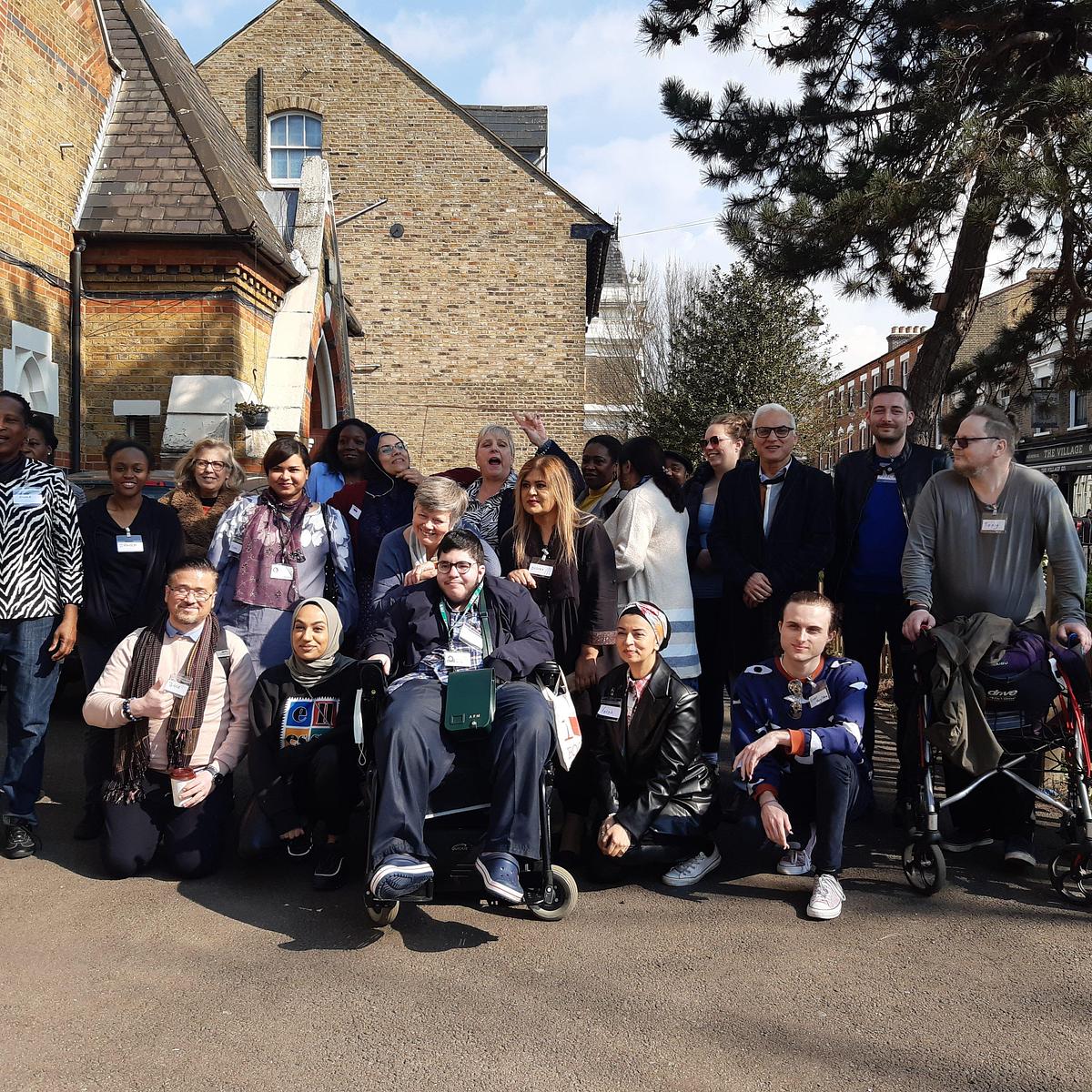 Waltham Forest Equality, Diversity, and Inclusion (EDI) Summit
The London Borough of Waltham Forest are committed to tackling the scale of structural inequalities that residents face in the borough, initially through a multi-method engagement on the theme of Making a Living. Democratic Society have been working with Waltham Forest Council to bring communities together with key stakeholders to make clear recommendations for the council to act upon.
Creating a meaningful and accessible summit for a sample of people who represent the diversity of the community, to discuss and answer this question:
From accessing a quality education to finding a good job, from earning a reasonable wage to drawing a liveable pension, there are many in Waltham Forest who face insurmountable barriers and discrimination when they are trying to make a living.

What actions can we take to make Waltham Forest a fairer and more equal borough, and support everyone to make a good living?
Watch Abdul-Raheem and Ewan's voxpops on Facebook sharing their views on the summit discussions
The aim is for residents, including those who face significant inequalities, to come together with Voluntary and Community Sector representatives, to deliberate and make recommendations for the council and its partners to implement, addressing Equalities, Diversity, and Inclusion (EDI) so that all residents can make a living.
Waltham Forest Council has completed a high profile and large-scale programme of community engagement with people who live, work and study in the Borough that explores the Making a Living theme in depth, is inclusive and ensures underrepresented voices are heard.
Part of an innovative, long-term commitment, the summit brought people together to develop priorities for action that are grounded in the experiences of local people. The council's ambition is to bring together partners and local communities to make long term, systemic change which improves the lives of all residents.
Waltham Borough Council Webpage Download our Equality, Diversity and Inclusion: State of the Borough Report
Overview
Great care and attention was given in the design and delivery of the summit, to make sure all participants were able to fully take part in-person. The summit members have reviewed evidence collected so far from a series of wider engagement of 400 hours with 550 residents, including digital surveys, mass outreach events, ethnographic research and 20 workshops with EDI target groups hosted by 9 VCS organisations.
Approach
Our starting point was to review data from all the sessions, to understand the main issues residents experienced connected with Making a Living. We delivered a Roundtable event as a halfway point to play back and examine some of the emerging themes with people who had been involved in the workshops.​​
From here, the aim was to bring together a diverse range of people from across Waltham Forest to hear evidence, discuss the issues together in-person over three summit days, and decide how Waltham Forest should change to help residents who experience inequalities to make a living.
The people who attended learnt about the issues and previous work from Community Conversations, discuss ideas for how to make the borough more equal and decide on actions for how that change should happen.
Summit sessions were delivered in three phases:
Learn

– understanding context, challenges, and other areas of innovation

Deliberate

– discussing potential solutions

Decide

– agreeing practical action and recommendations
The summit heard from a range of people with subject-matter and practical, lived-experience expertise during the three sessions. Through time spent learning, discussing and deliberating together, summit members agreed on a set of 11 recommendations in total.
As a process, the Waltham Forest EDI Making a Living Summit was the first of its kind in the UK. The range of recommendations shows that, when given the opportunity to deliberate with a broader group of people, with access to insight and information for discussion together in safe conditions, people from community groups and organisations can find solutions to some of society's most pressing challenges and produce detailed recommendations about a way forward.
Summit members were able to have constructive and informed debate with a broad range of participants; to explore the issues together, to consider the trade-offs and hear other perspectives. Results of the summit, along with the feedback from participants, demonstrate how deeply they approach issues and how important it is for the Council to give opportunities of this nature to the community.
The recommendations are available for consideration by policymakers, and anyone interested in the topic of Equality, Diversity, and Inclusion and specifically on how everyone can be supported to make a good living.
Communities leading the way, empowered to build solutions
The next phase will bring working groups of residents together, to meet regularly and get involved in the implementation of recommendations for the council and its partners to take forward.
A key concern is how residents are empowered to hold the council accountable for taking their EDI recommendations forward. In one resident's words – "Less words, more action."