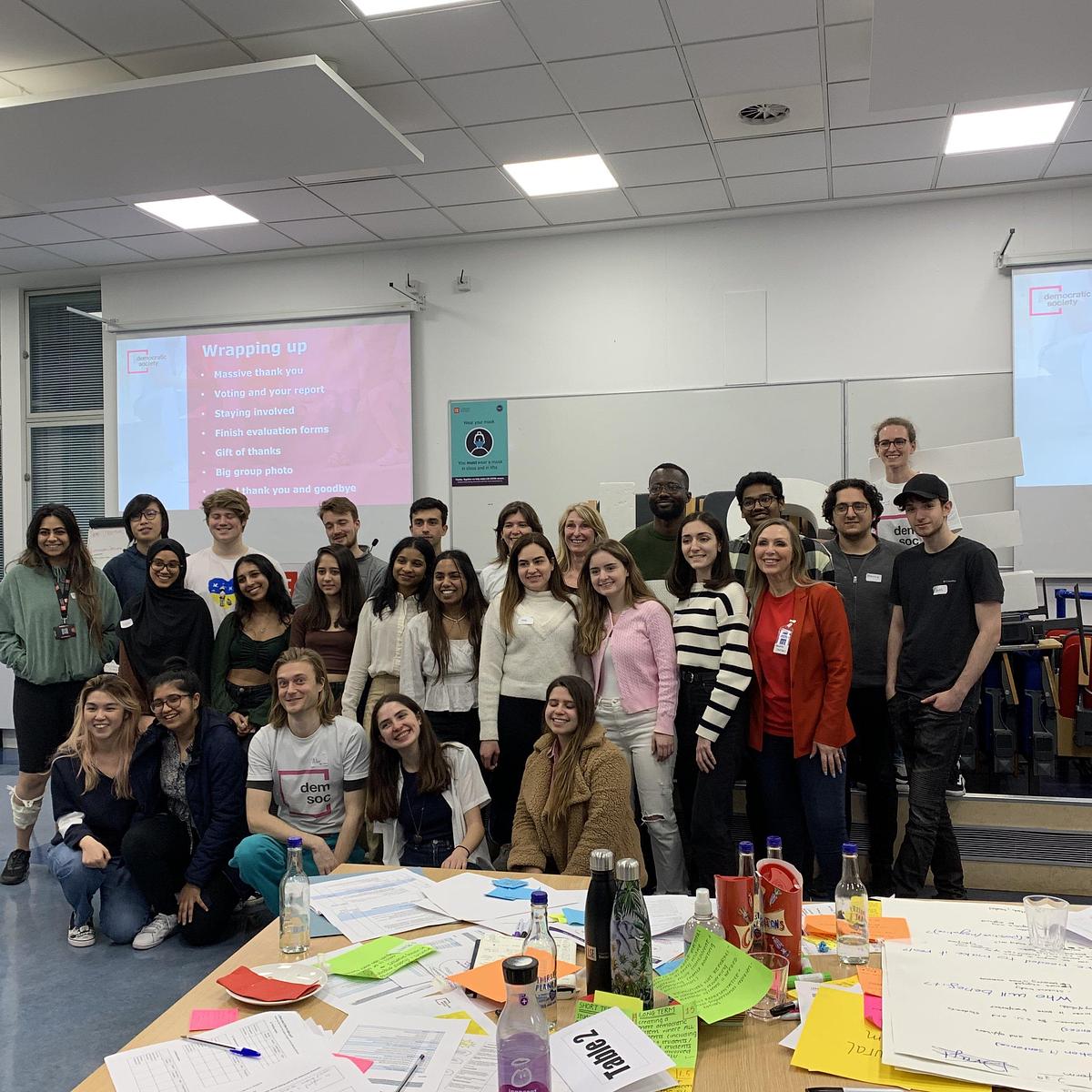 London School of Economics Students' Union - Democracy Summit
LSE Students' Union committed to undertake a rigorous Democracy Review, in order to arrive at a model which better meets the needs of LSE students. To activate this, Democratic Society has been working with the Students' Union on broad engagement with students to build a picture of current experience and bring together new ideas for improving the LSESU democratic structure. This wider engagement across the student population was achieved using a combination of focus groups and interviews, and an online survey. It provided evidence for review by a further group of students, randomly selected by civic lottery, to be representatives at the Democracy Summit in March 2022.
Over three consecutive Wednesdays, student summit members heard from a range of speakers with practical and subject-matter experience, to help them understand the problem and scope of the issue.
Using this evidence, summit members deliberated and tested ideas, enabling them to develop a set of recommendations which reimagine and strengthen LSESU democracy so it can work better for everyone.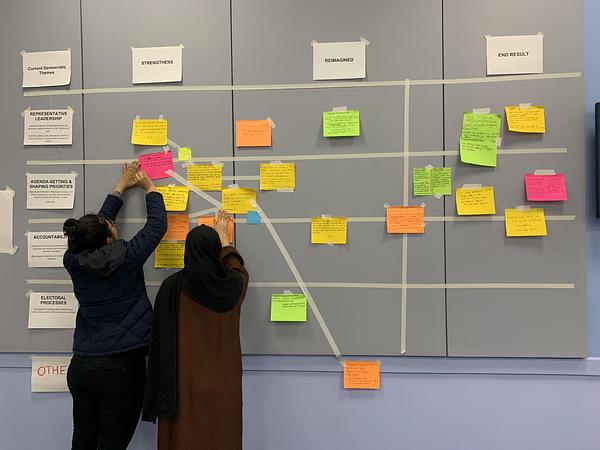 Overview
The aim was to bring together a diverse and representative group of students from across LSE, to hear evidence, discuss the issues together in-person over three days, and decide how the LSESU should make changes to be more democratic for all.
The students who attended learnt about the issues, what works elsewhere and were able to discuss ideas for how to make the Students' Union more democratic and more representative. They went through a process of deliberation to decide on actions for how that change should happen.
"I hope that the Students' Union will become more representative of the actual student body and be seen as a union that is deliberative and addressing the issues of students"
Approach - The Democracy Review
1. Focus Groups
Demsoc led a series of focus groups and interviews, targeting students who may not traditionally have a voice, for their input into the review. They included 31 students from a range of groups that the Students' Union thought it was important to reach, to make sure people covering the following demographics were heard:
International Students
PHD Students
BME Students
Masters Students
Commuting Students
LGBTQ+ Students
Students with a disability
Topics covered in these groups and interviews included previous experience of getting involved with the Students' Union, how well represented people felt, what prevents people from getting involved in Students' Union democracy related activities, and elements that improve peoples' democratic experience of the Students' Union.
Inclusion and how accessible people find the Students' Union was another core topic explored. A final topic was to find out thoughts and ideas on how students can affect change and to hold the Students' Union to account.
2. Wider engagement survey
An online survey based on the same topics covered in focus groups was completed by 640 students.
Results from the wider engagement survey and focus groups and interviews were analysed, synthesised, and presented as evidence for the Democracy Summit to consider.
3. Stakeholder communication and engagement
Stakeholder communication and engagement also played a key part in the lead up to the summit, to ensure that a wide range of 'critical friends' were aware of and/or included in the summit.
These included:
The School Management Committee
Executive Committee (Sabbatical Officers & Part-Time Officers)
Democracy Committee
Senior Leadership Team
Student Media Groups
Societies & Sports Clubs
Academic Reps
LSE Academic Departments
Campaign Groups
Newly elected students
Company Secretary
Students in general
Each of these stakeholders will play an important role in delivering the results of the Democracy Review, whether it be in constitutional change, communication, or operational delivery.
Students themselves are fundamental to voting in any changes through their Students' Members Meeting in June 2022.
4. Democracy Summit
Summit sessions were delivered in three phases:
Learn

– understanding context, challenges, and other areas of innovation

Deliberate

– discussing potential solutions

Decide

– agreeing practical action and recommendations
The summit heard from a range of subject-matter and lived-experience experts during the sessions. Through time spent learning, and deliberating together, summit members agreed on a set of 15 recommendations (available in the final report once published).
Students organised their recommendations around three priority themes:
Structural reform
Student engagement
Transparency/Accessibility
Once the summit recommendations were complete, summit members were given a chance to vote on whether they supported each recommendation statement.
A total of 23 of 25 participants completed the voting poll as online ballots. Each recommendation received over 85% support, and all were accepted by the summit.
"Being part of something that will have a real impact on people's lives for the better."
Student-led democracy
Next steps are to review the Summit recommendations and build them into a workable set of recommendations for a new democratic structure for the Students' Union.
Members will be consulted on the proposed new structures, and then the final proposal will go to a vote at the Student Members' Meeting for approval. The final proposal will also be shared at a meeting of the trustee board.