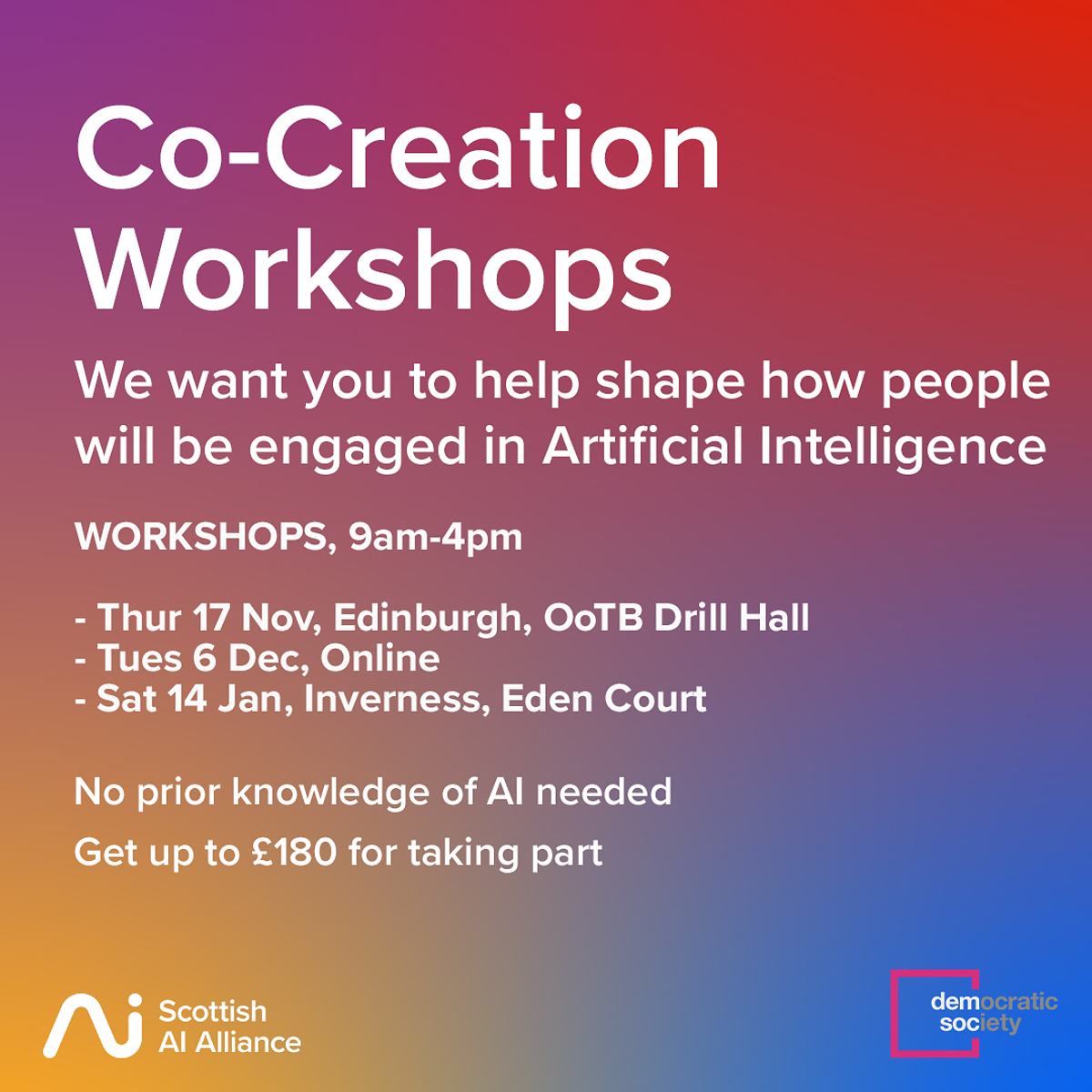 Scottish Artificial Intelligence (AI) Co-Creation Public Engagement Workshops
We are developing design principles and a participatory engagement tree with the public through co-creation workshops on how people should be engaged and be part of decision making on AI in the future.
About
The Scottish AI Alliance commissioned Democratic Society to design and deliver 3 co-creation workshops (Edinburgh, Inverness and online). The purpose of these workshops is to develop design principles and a participatory decision tree on how people in Scotland should be engaged and be part of decision making on artificial intelligence (AI) in the future.
You do not need to know anything about AI as the workshop will cover AI application scenarios (real-life examples) in Scotland and you will collaboratively design principles with the rest of the group for how you think you should be engaged and make decisions on AI in the future, reflecting on some high and low stake examples.
What do you mean by artificial intelligence (AI)?
Technologies used to allow computers to perform tasks that would otherwise require human intelligence, such as visual perception, speech recognition and language translation. AI is a broad discipline. Think of it as a group of complementary technologies, including data-driven techniques, which are evolving constantly.
https://www.scotlandaistrategy.com/video-gallery/what-is-ai-the-royal-society-aj2fw
Purpose
AI is already an important part of our lives in Scotland, and many of the technologies and products we use day-to-day are utilising AI. As its impact grows, AI will reach more and more people in Scottish society and we must be clear about the kind of AI we want to see in our country. The benefits of AI can be huge if we ensure that it is trustworthy, inclusive and ethical – which is why we want your help to shape the vision for AI in Scotland.
Workshop options (select one)
Thursday 17th November 9am –4pm Edinburgh

Tuesday 6th December 9am – 4pm Online via Zoom

Saturday 14 January 9am - 4pm Inverness, Eden Court
The workshop you choose will be held over a full day and you will work with others as part of a small group (7-10 people) to deliberate on possible future AI scenarios in Scotland and decide on the best principles for public engagement Scotland should be working towards. The ideas you suggest at the workshop will form the Scottish AI Alliance design principles and a participatory decision tree for future engagement and decision making in AI policy.
Gift of thanks
To say thanks for giving up your time and to cover any travel or child-caring costs, we will be providing thank you honorariums.
Participants who attend an in-person workshop will receive a £180 thank you gift via honorarium voucher or credit.
Participants who attend an online workshop will receive a £120 thank you gift via honorarium voucher or credit.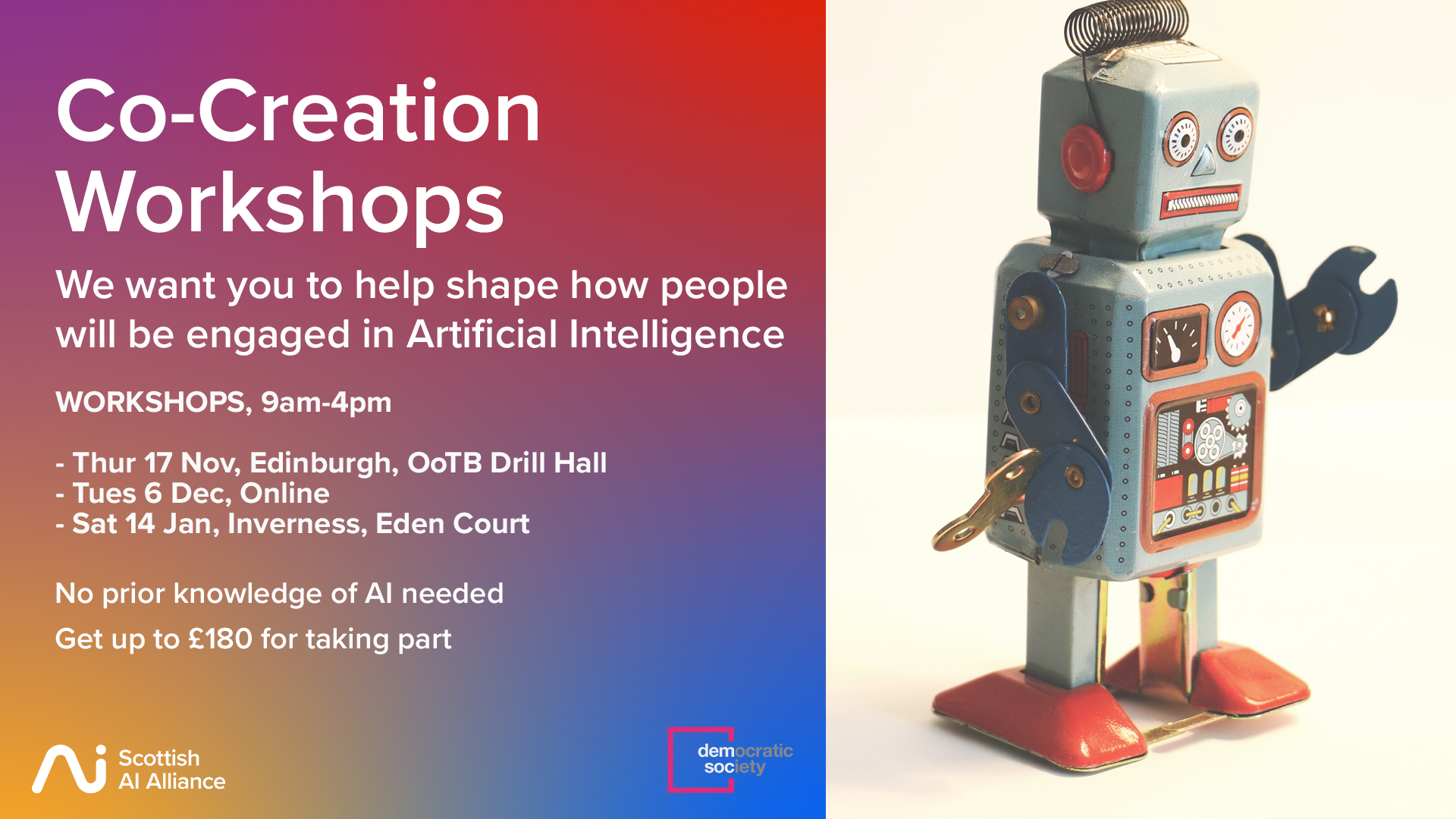 Selection of participants
Spaces are allocated on a first-come basis, however we can only have up to 7-10 people per workshop (30 people total) this means if we receive more than the number required, we will need to do a selection process to ensure that there is a broadly representative sample of demographics including age, gender, local authority area, understanding of AI. Due to the nature of AI and potential for bias, we are particularly interested in hearing from groups who have traditionally been underrepresented in Scottish society. This means you may not be selected if too many people sign-up under the same demographic profile, however there are other ways to engage here: https://www.scottishai.com/get-involved
More information
AI is a complex subject and we want all of you to feel confident to speak openly, without any fear. If you are selected, we will be sending you out an information pack and ensuring you feel safe and comfortable to attend in advance of the workshop. The workshop delivery team will be in contact with you to make sure you have everything that you need, to feel valued and to take part safely.
The following organisations are part of this process:
The Democratic Society

: The Democratic Society (Demsoc) works for more and better democracy, where people and institutions have the desire, opportunity and confidence to participate together. We work to create opportunities for people to become involved in the decisions that affect their lives and for them to have the skills to do this effectively. We support governments, parliaments and any organisation that wants to involve citizens in decision making to be transparent, open and welcoming of participation. We actively support spaces, places and processes to make this happen.

Scottish AI Alliance:

The Scottish AI Alliance is administered by The Data Lab in partnership with the Scottish Government and is led by a Minister-appointed Chair and the Scottish Government's Chief Data Officer. The Scottish AI Alliance is tasked with the delivery of the actions outlined in Scotland's AI Strategy in an open, transparent and collaborative way. The group provides a focus for dialogue, collaboration and, above all, action on all things AI in Scotland. The Data Lab is Scotland's Innovation Centre for Data and AI and our mission is to help Scotland maximise value from data and lead the world to a data powered future.