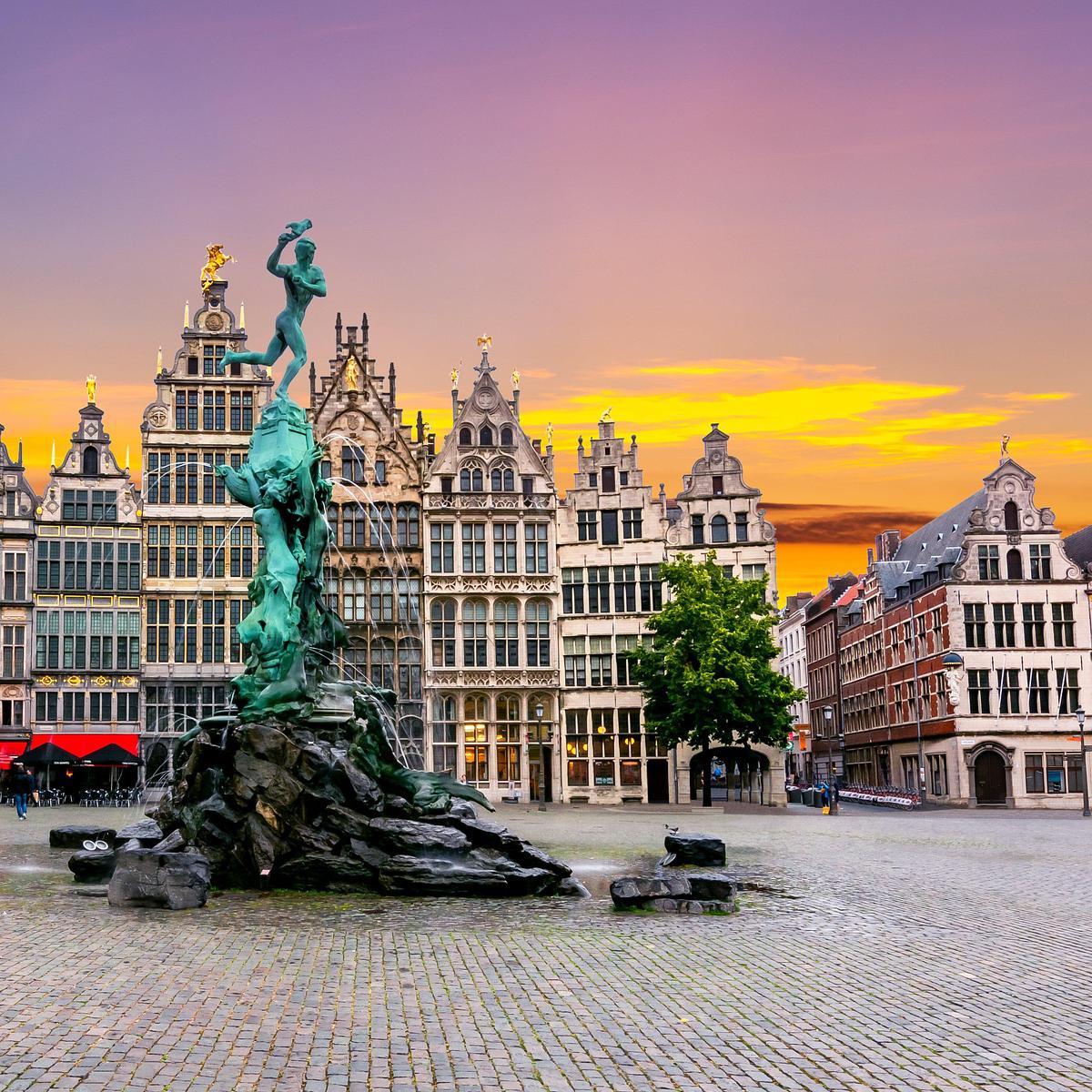 Antwerp's consensus-based take on Participatory Budgeting
Antwerp's consensus-based take on Participatory Budgeting
What's this post about?
As part of our work developing the use of digital participatory budgeting (PB) in Scotland, Demsoc has been showcasing innovative approaches to Participatory Budgeting, particularly those that make good use of digital tools. Antwerp's process is groundbreaking in its focus on achieving consensus through offline small group discussions. But they have also experimented in interesting ways with using digital tools as part of this process.
Hanne Bastiaensen was the project lead and key creative force behind Antwerp's Participatory Budget. She recently joined our team at Demsoc, so we couldn't pass up the opportunity to ask her some questions about what she's done in Antwerp. Here she lays out how the innovative process works, and shares some frank reflections on Antwerp's experiment with digital deliberation and how they've harnessed digital tools to draw people in to their consensus-based process. This post follows up a shorter audio interview with Hanne., which you can hear here.
Why does Antwerp use PB?
Why did the city start using PB? What were the aims of the process?
At the start of the process, there were five important objectives:
1. Citizens develop mutual understanding of each other's needs. We assume that different people have different needs. One of the objectives is that people understand what the needs of the others are and can take this into account. This means that people have to talk to each other. The process itself is therefore important.
2. The district apportions its resources in a participative way. As a principle, it is important that citizens get a say in how the funds are spent.
3. The district uses its resources as efficiently as possible. Citizens have a very good knowledge of the local needs in a neighborhood. We therefore assume that if citizens spend part of the resources themselves funds will be spent more efficiently.
4. Creating support for the spending of resources. In the PB, participants must determine priorities with limited resources. Besides, they get an idea of ​​the cost of different choices. This objective starts from the idea that if people have to make their own choices with a limited budget, they will understand that policy makers also have to do this. In this way there is support for the choices made by local government.
5. Increased satisfaction with participation. In the past there was sometimes disappointment about forms of participation where it was unclear whether something happened with the input of the participants. When participants are given a clear decision-making power on the spending of resources in a transparent manner, satisfaction about participation will increase.
How does the process work?
Can you give an overview of the process?
The PB of the district of Antwerp is a PB in different phases. In a first phase - the start meetings - the participants choose which themes they consider important for the district. In a second phase - the district forum - they distribute 1.1 million euros on the most popular themes. In a third phase, residents can submit projects for the actual spending of this budget. It is also the residents who subsequently determine which projects are being carried out effectively.
Start meetings
Participants decide which themes they consider most important for the entire district.
Each table of 6 participants selects 5 themes from 93 themes by consensus.
The 12 most chosen themes advance to the district forum.
The goal of these start meetings is that each table of 6 participants reaches consensus on the choice of 5 themes that they consider important.At these start meetings, participants start from what they find important and what they want to focus on the following year. Each participant goes very briefly through the points that are important to him or her.Afterwards, participants are asked to select a maximum of 10 ideas that everyone around the table can agree about. In this first round of discussions, it becomes clear where possible agreements lie and where the participants should seek consensus.
In the final round of the start meeting, participants must think more strategically. Participants get the option to choose 5 themes per table. They choose these themes from a set of 93 themes that together include all the competences that the district has. These themes are abstract enough that participants are not arguing for concrete projects on their doorstep; but concrete enough to really mean something. For instance theme 'green issues' would be too general. Instead within this policy domain you can opt for 'pop-up parks', 'more trees in streets', 'better maintenance of parks', and so on.
At the start meetings priorities have to be determined. More investment in youth work? Or in better cycle paths? To be able to make this choice, participants get as much information as possible to help them make decisions. Not only do they get - in general terms - the budget as it looks without the 10 percent that will be determined by the PB. They also receive the costs involved in each theme. Each theme has a card with the price on the back. In this way, the participants learn how much a tree in the street costs (including working on the pavement), or they learn that the renewal of the pavement costs 120 euros per meter.
2. The Forum
Each table of 8 participants distributes 1 million euros by consensus
The money is divided among the 12 most popular themes from the start meetings
The final result is arrived at by averaging across all tables
In the second big step, the forum, participants can distribute 1.4 million euros over the 12 most chosen themes from the start meetings. Each group of 8 participants can distribute circa 1 million euros by consensus. In this stage too, discussion and argumentation is important. To distribute this money they have to work together and convince each other. The distribution of this money happens in game form. Each participant at the table receives 12 poker chips in his own color, each worth 10,000 euros. The 12 themes chosen during the start meetings are on the table for the players. Each participant may use his poker chips on the themes he or she wants to invest in. But there are 2 important rules. A theme is only valid if at least 4 different participants put some of their money on this theme. Moreover, the money is also only allocated to a theme if at least 60,000 euros is given to it. In this way, the participants are encouraged to work together and provide arguments to focus on a theme.
How much is applied to a theme not only depends on where the priorities of the participants lie but also on how much it costs to achieve something meaningful under this theme. Good information is crucial here. Participants receive not only extensive information about what a theme costs but also, for the 12 remaining themes, they receive the budget as planned, including all projects that are already planned. In this way participants can estimate how much is desirable to invest extra in that theme. The result of this forum is calculated by averaging across all the tables that participated. In this way, 12 concrete themes will receive money.
3. Ideation
People and organizations can submit projects within the chosen themes and budgets
The projects are tested for feasibility
In the third stage of the PB process, residents of the district of Antwerp have the opportunity to submit projects within the themes and budgets defined in the previous rounds. All residents of the district can submit projects. The proposers link their project to a theme that has been given money at the district forum.
In addition to submitting on this online platform, project labs are organized. In these project labs people come together who want to work together on ideas. There are people with an idea who need help with the development of the idea, and there are people who would like to help reflect on the idea of ​​others.
Both online and offline, people have to answer seven questions about their project. In addition to what the project entails, these cover added value, pitfalls, and a step-by-step plan, ...In addition, proposers must decide whether the project is being carried out by the district or whether they will carry out the project themselves.
Later, all submitted projects are tested for feasibility. This mainly concerns whether projects are within the district authority, whether they fit the theme and whether the total budget allocated to a theme is not exceeded by the project.
4. PB festival
Residents of the district of Antwerp decide which projects are carried out
The final step of the PB process is the PB Festival. In this step participants choosewhich submitted projects are executed with the available resources of 1.1 million euros. Every project has a realistic budget. Together residents discuss in small groups about the projects. Each table selects what they think are the five most valuable projects per theme. Afterwards, all selected projects are presented per table. The project that is at the top of the ranking within a theme once the votes of all tables have been recorded is selected to be carried out. Participants choose projects within a theme until the money allocated to this theme runs out.
All projects are carried out within the timeframe of one year. Meanwhile, the new cycle is being started for the next edition of the PB process.
What are the main impacts this process has had?
What has the process been able to achieve?
One of the main achievements have been bringing diverse people together to talk about the future of their city. The offline discussions encourage people to listen to each other and reach consensus, and it's great to see really different people deliberating together at a table. As we've gone along we've monitored who has taken part with the help of a local university. Where we've found sectors of the population who are missing we've specifically targeted these people, collaborating with groups who work with these residents to get them involved. After five years our participants were as diverse as the city itself. We get about 1,200 to 1,500 people taking part in these offline events, out of a population of about 500,000.
Experimenting with digital deliberation
You experimented with digital deliberation within the PB process. How did this process of online deliberation fit in to the wider process? What did it involve?
There were online discussion groups. People could discuss the different themes in discussion groups of 30 to 40 people for two weeks. Together they could argue why they considered a theme important or not important to put money on. Participants could respond to other arguments or provide new arguments.
After two weeks of discussion, the participants were presented with the most discussed themes per discussion group. Then they could vote by indicating their top 5. Just like on the offline tables, the online discussion groups were able to give 5 themes 1 vote. Each online discussion group therefore had as much say as an offline table.
Why did you decide to do this?
On the one hand, we wanted an online version for people who could not easily make time when there were face-to-face meetings. Even though we planned the various meetings in the evenings during the week, during the day during the week and during the weekend, it is not easy for everyone to make a lot of time for this. On the other hand, we wanted to preserve the deliberative character of the Antwerp PB. That is why we looked for a way in which we could keep the deliberative character online. Working with discussion groups was therefore a logical choice.
What kind of things did you have to think about to make this work?
There are few examples of online deliberative processes. So we had to start from scratch. Moreover, we wanted to preserve the character of the PB process. This means that it must be decisive and in some way compatible with the offline participation process. So we had to think about how we could count the results of the online process with the offline process.
Furthermore, we had to think about the deliberative nature. With how much people do you have to be in a discussion group to keep a group alive? How can we ensure that people enter into debate with each other? How does moderation work? How can we encourage people to return more than once, to see how the debate is proceeding? How do we make this online process transparent? How can we give enough explanation about the PB process without people having to read many pages of text?
What happened in practice?
About 100 people signed up every year to take part in the online start meetings. The course of the discussions went reasonably well. We did see, however, that it took a lot of effort to ensure that people really started to discuss. We had to send an email regularly with an encouragement to make people look at the platform again. There was also a fear of being the first to post something. Here too, encouragement was needed. The quality of the discussions was ok, but not fantastic. Many people gave their opinion, but it was more difficult to let people react to each other's arguments. In general we can say that it went ok, but did not have the quality of the discussions offline.
Why did you stop using this online process?
We did not know how to deal with this online process. On the one hand, we felt it was important to have an online process for people who could not come to a face-to-face event. On the other hand, we did not want to advertise too much. We did not want people who would otherwise come in person to instead join online, because the quality of the discussion was so much higher offline. Because we did not want to fully promote this, we decided to stop it. Instead, we started looking at better ways to use online in the process.
Other ways of using digital
So how else have you used digital tools to support the process?.
After we stopped using the online deliberation, we started looking into other ways to use online. Instead of trying to translate a good offline process into an online process, we started looking at other objectives. What we still lacked in the process of the PB is a small commitment. People who wanted to participate had to be able to free themselves for hours to discuss with strangers. This is an important barrier. Online is very suitable for a small engagement.
So we created a very simple voting process online. Residents could use this to easily vote for their favourite projects. But these online votes were given only a limited weighting compared to offline votes for determining which projects get funding. Online votes collectively are given a weighting of 20% for deciding what is funded, versus an 80% weighting for offline votes.
The idea was to give people an easy way into the process, but use this to push people towards in-depth discussion offline. In this way, the online voting process was designed as a stepping stone for offline participation. And it worked. After the introduction of online voting, we saw that the number of new participants in the offline PB events had increased.
Of course we also used online tools in various other aspects of the process. For the promotion of the PB we used digital newsletters, but we also had a website and used facebook ads. Participants could also register online for the different stages of the process. For communication about the results, the chosen projects, the implementation of these projects etc. people can go to the website, as well as being kept informed via digital newsletters.
Finally, the projects and ideas are presented on a specially designed platform. During the ideation process, people can see which projects have already been submitted and respond to them.
Were there any challenges you've had to overcome to use tools in this way?
A first important challenge when using online tools is always the same: how do you involve people who are not so digitally educated? In Antwerp, for every online step there is an offline alternative or people can get help. So people can also call to sign up, they can come over to insert their idea on the platform, ...
There is also the challenge: How do you ensure that you get sufficient control over who participates and how do you take into account privacy and sensitivity to fraud without making the process so heavy or inaccessible that people drop out? This is a challenge for every online voting process. On a case-by-case basis, it must be considered what the possible risks are and how best to tackle them.
Are there other ways of using digital tools you'd have liked to explore?
There are many inspiring examples from abroad that are interesting. The one who attracts me the most is the interesting ways to map the realized projects. Over the years many hundreds of projects have been realized with the PB. It would be nice to have an overview of all projects that have already been realized in a clear way, such as an interactive map, where you can follow the implementation. For example, you should be able to follow the status of each project, and when there are interesting events of a project, important milestones ... When people are very strongly involved in the execution of the projects, it will keep the process alive. Moreover, the realized projects give a nice overview of what is possible and this is in itself a promotion to take part in the participation process.
If you'd like to know more about this topic you can contact Hanne on Hanne@demsoc.eu or to find out more about our work on PB in Scotland you can get in touch with us on: scotland@demsoc.eu