Join us on 29th April to discuss the process and outcomes from the Climate Assembly with Kelly McBride, Director of Scotland, at Democratic Society
Scotland's Climate Assembly brought together people from different walks of life across Scotland, to learn about and discuss the question: 'How should Scotland change to tackle the climate emergency in an effective and fair way?'
The process was grounded in Scotland's Climate Change Act (2019) and Assembly Members were selected to be broadly representative of the Scottish population. Over the course of seven weekends, they were tasked with learning about, deliberating, and making recommendations on how we can best tackle climate change. An Interim Report was laid in the Scottish Parliament on 24 March and is available to read at www.climateassembly.scot . A full report with the final recommendations will be published after the Scottish Parliamentary elections in May.
Democratic Society is Europe's leading international democracy organization, supporting our cities and citizens to ensure that radical climate transformation is a democratic not just a technocratic process. By strengthening governance, participation and civil society, we aim to unlock climate resilience in cities, now and for future generations.
This Webinar is part of a series of discussions exploring the intersection between climate and democracy, highlighting potential methods and approaches. Subscribe to our newsletter to stay up to date on all our events.
Democratic Society has been working to support democracy since 2010 and has been involved in the development of participatory and deliberative projects in Scotland since 2014. Democratic Society worked together with Involve to lead the design and facilitation of Scotland's Climate Assembly.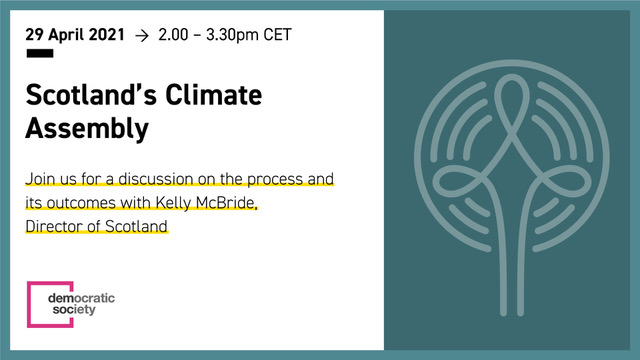 Join us on 29th April to discuss the process and outcomes from the Climate Assembly with Kelly McBride, Director of Scotland, at Democratic Society. You can register for this event on this page or use the following Zoom link to join the session: https://us02web.zoom.us/j/82712545372.
For any questions or comments, you can email us at saha@demsoc.eu