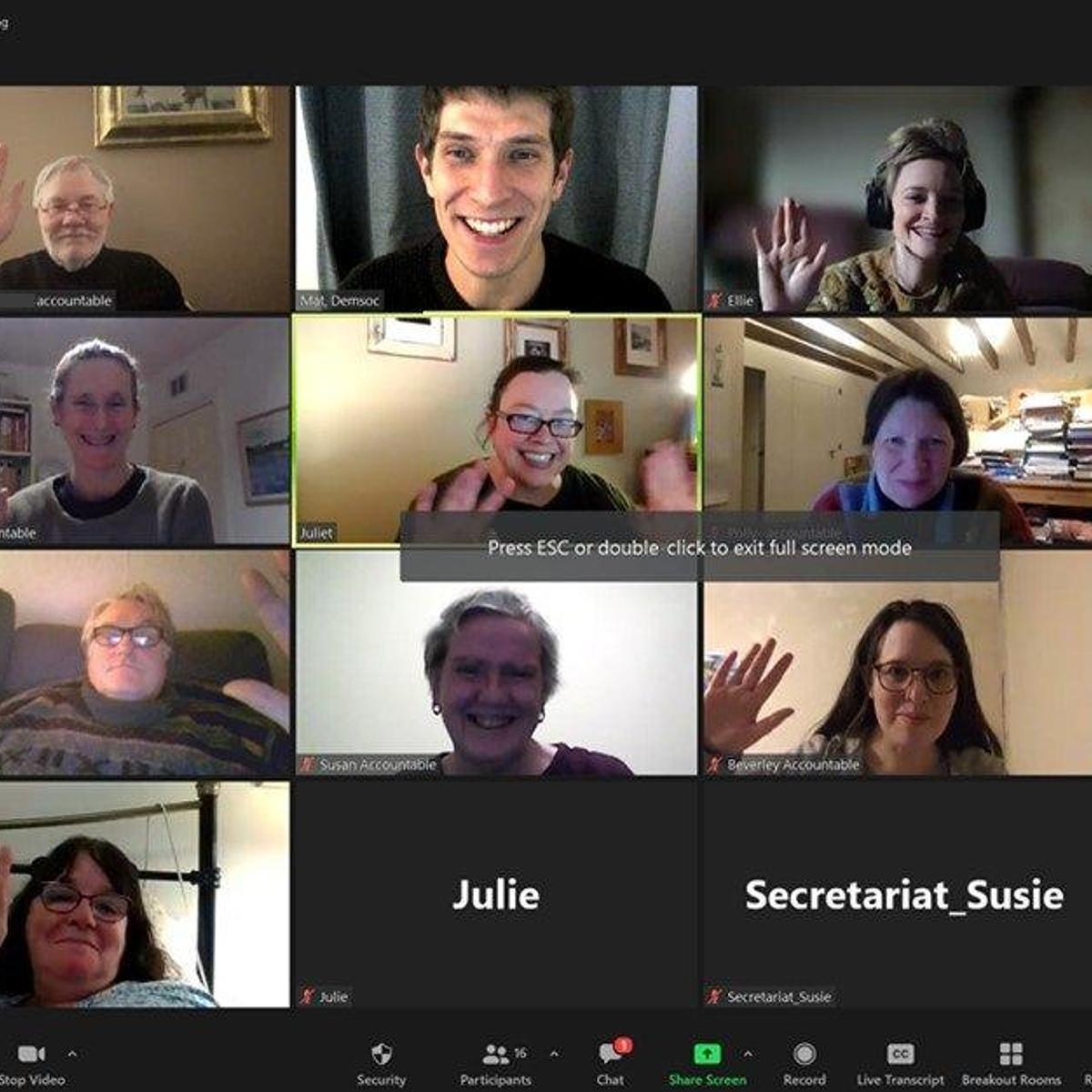 Equipping Scotland's Climate Assembly to stand up for their Recommendations
Supporting Scotland's Climate Assembly Members to stay connected and work together beyond the end of the Assembly.
Overview
Scotland's Climate Assembly is a group of 100 citizens from all walks of life who were tasked with agreeing recommendations for tackling the climate emergency in a fair and effective way.
Once they'd completed their recommendations, Assembly Members didn't want this to be the end of their journey. The Scottish Government Secretariat who helped organise the Assembly commissioned Involve and Democratic Society to provide ongoing support to Assembly Members to help them stay connected and work together beyond the end of the Assembly. The purpose of this project was to develop a network of Assembly Members that could continue to stay actively involved: helping this group identify their aims and giving them support to start taking the next steps on their journey.
Supporting members like this was a really innovative step from the Scottish Government. Building this kind of infrastructure into citizen participation is crucial for ensuring that the energy and investment of participants is built upon rather than suddenly cutting participants off at the end of processes. It's important that we learn from these first steps.
Approach
From September 2021 to March 2022, we held a series of events for Assembly Members. We worked with a small but committed group of Members. Across these activities we learnt about their aims, what success would look like for them, and what support they needed to begin the next stage of their journey.
We used a questionnaire and a Kick-Off workshop to understand Assembly Members' aims, and what support would help them achieve this vision. From there we developed a support package, including running events on Media Training, Fact-checking, and Advocacy Training.
We also ran a Next Steps event to help the group think about how to continue working together. As part of this we identified a group of volunteers who would help with bringing the group back together in the future. We also talked about what support they might be for the group in the future, including linking up with existing structures, networks and groups.
Results
The Assembly Members we worked with wanted to continue to hold the government to account. They wanted to stay visible and continue to push for action on the climate emergency. Through conversations with Assembly Members, the delivery team, and the Secretariat a promising option emerged for supporting this. This was to work with the Net Zero, Energy and Transport Committee who currently perform this accountability role for the climate emergency in the Scottish Parliament. A group of Assembly Members met with the Committee shortly after our Next Steps event and talked about being involved in on-going accountability. The Committee has been supportive of this, and conversations with them are continuing.
A group of volunteers have also come forward to run future meetings of interested Assembly Members. At the time of writing we are continuing to explore options for working with Net Zero, Energy and Transport Committee and have agreed to report back to a meeting organised by these Assembly Members.
Impact
At the end of this project, we will be leaving Assembly Members able to connect with each other, with a vision of what they want to achieve, developed advocacy skills, and some promising avenues for connecting with existing accountability structures and exploring potential sources of further support.
Further Information
For more information about the project, please get in touch with Mat at: mat@demsoc.org
Alongside this support project Democratic Society and Involve also supported the design and delivery of Scotland's Climate Assembly.