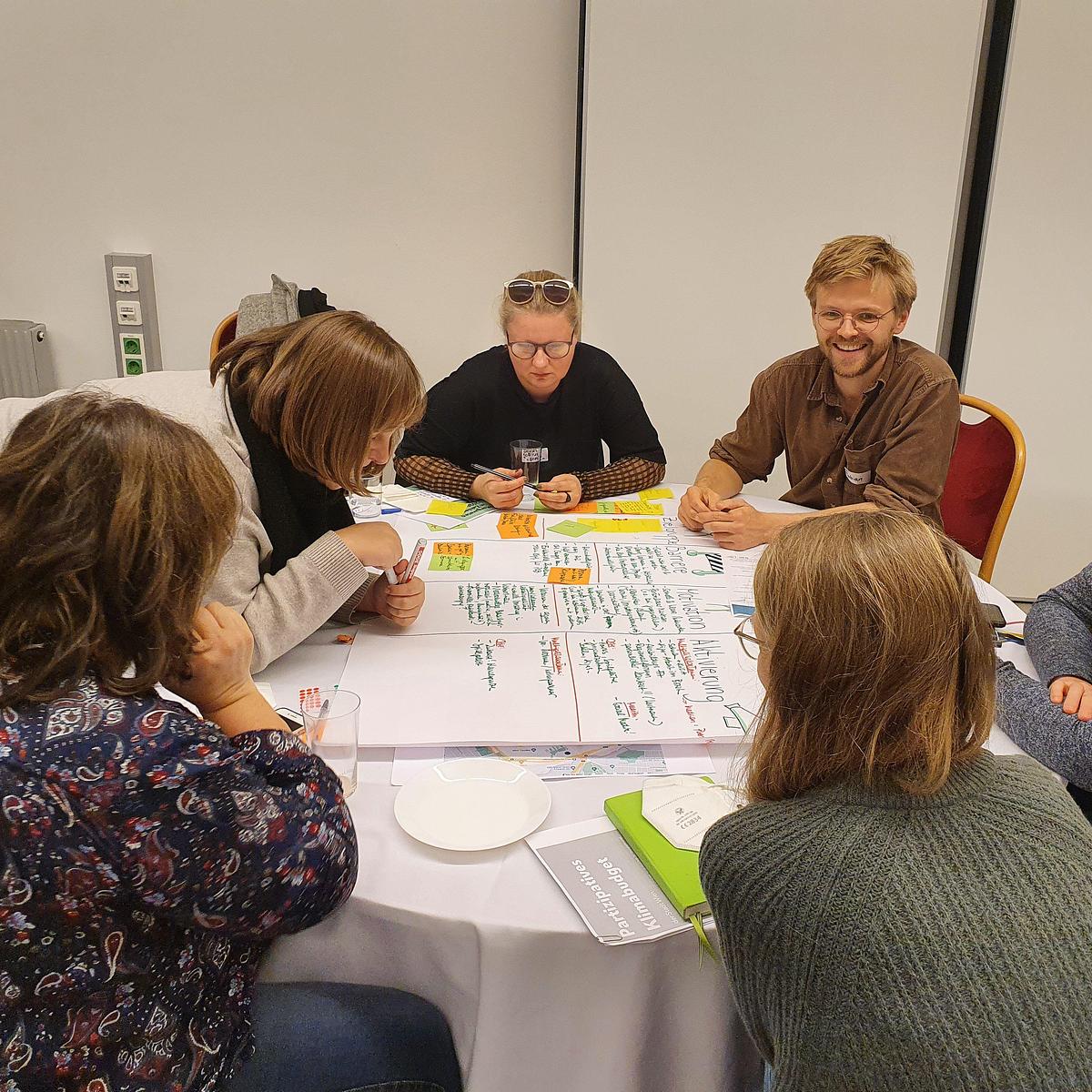 A Participatory Budget on Climate Action in Vienna
In April 2022, the City of Vienna launched the Vienna Climate Team – Wiener Klimateam - A Participatory Budget on Climate Action that includes deliberative and innovative elements. Democratic Society will be designing and implementing the citizens panel responsible for making the decision which project and ideas receive funding.
Wiener Klimateam – Vienna Climate Team – is a participatory budget using innovative and deliberative elements. After the idea generation phase, all ideas that fulfil the requirements enter the co-creation phase where idea-givers are invited to collectively develop project proposals with experts, artists and city staff. The decision on which project proposals should be implemented is taken by a citizens' jury. Currently, the project is in a pilot phase: three pioneer districts were selected to test the process. If successful, the project may be scaled up to the whole city. Democratic Society supported the City of Vienna in designing the process of the participatory budget. The City's ambition is to use the project as a lever for governance innovation, deepening democracy and socially just climate actions.
Wiener Klimateams – process overview
Idea generation:

all people living in Vienna, regardless of age or citizenship can submit ideas for the climate-friendly future in the three pilot districts. Submitting an idea has been made very easy to make participating accessible

Checking ideas:

the City checks whether the ideas fulfil the necessary criteria and groups ideas into clusters

Project development/co-creation:

idea givers, experts and artists are invited to co-creation workshops. Here, they develop the ideas into concrete climate project proposals

Citizen Jury:

a representative group of citizens decides which ideas are to be implemented with the available financial resources

Implementation:

the City of Vienna and the districts implement the ideas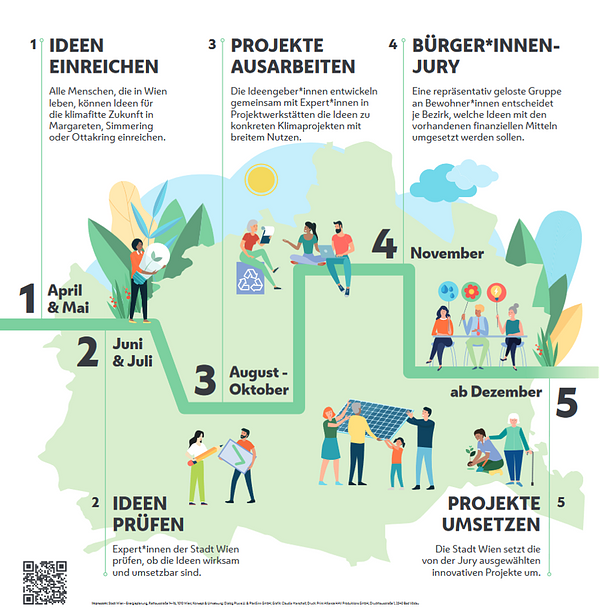 Approach
The Vienna Klimateam is a participatory budget on climate action. For members to be able to make an informed decision – based on their needs, wishes and fears, but also on scientific facts – they will need to learn together about causes and effects of climate change in the city. They will also have to discuss together about different mitigation and adaptation measures and their potential to improve the quality in their district for them and their neighbourhood.
For the decision phase, in each of the pilot districts, a representative group of citizens' will be meeting over 3 days. Members will learn, discuss and decide together which projects in their district should receive funding and be implemented by the city. Together with the City of Vienna, we will develop an experimental and playful approach to translate scientific facts into images, symbols and stories. Experimental and playful approaches can also convey more than just information: they can raise awareness, stimulate critical thinking, and spark discussions. This can create space and opportunity for people to make their own connections move from knowledge transfer to learning and understanding.
Further Information
Project Page: Wiener Klimateam - Concept Development

Official Project Page of Wiener Klimateam

Official First Announcement of the decision by City Council

Blog article from Localised about the Wiener Klimateam

Get in touch